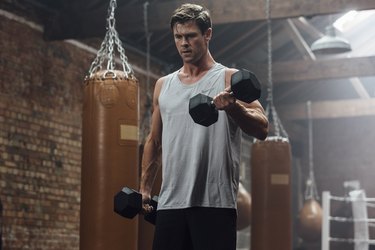 It's no secret Chris Hemsworth works hard to stay in phenomenal shape for playing the Marvel superhero, Thor. And now he's sharing the secret to his famous physique through his recently launched app called Centr.
While most of us mere mortals aren't going to be able to train or eat like Thor, app users will have access to world-class trainers and fitness experts — including his personal trainer Luke Zocchi, Hollywood stuntman Bobby Holland Hanton, celebrity trainer Gunnar Peterson and yogi Ally Bogard — plus a team of nutritionists and chefs to customize daily workouts, meal plans and meditations via the iOS app, Apple Watch and desktop.
"I believe we all have untapped potential. And we all need support to achieve our goals," Hemsworth says in a press release for the app. "Centr puts the world's best in the palm of your hand, to help you develop a healthier body, stronger mind and a happier life."
So what does it take to look like Thor? LIVESTRONG.com got the lowdown on Chris Hemsworth's diet and workout strategies from Zocchi, as well as how it's evolved with each Avengers movie.
Chris Hemsworth's Diet for Avengers
While Hemsworth certainly put in his time in the weight room to bulk up, he also focuses a lot on his nutrition. "Chris is not naturally that big, so it's about getting those calories in by eating six meals a day," Zocchi says.
"When we did Avengers: Age of Ultron in 2015, breakfast was a steak, three boiled eggs and 100 grams of blueberries every day for two months. I'd set a stop watch every two to three hours so he'd have another fistful of protein, green vegetables and brown rice, plus two protein shakes with water, banana and peanut butter every day."
But for last year's Avengers: Infinity War, the actor-trainer duo experimented with a major dietary shift — eating vegan. "You don't need as much animal protein as people think, and it made us begin to wonder how your body is breaking down all that meat every day? It was a big learning curve for us," Zocchi says.
"He didn't lose much weight and was almost the same size, but just needed to eat more food — filling up on beans and quinoa — because his body was used to having animal protein."
For Endgame, Hemsworth found a middle ground between a vegan and carnivore diet, says chef and Centr food expert Sergio Perera in the app's press release. "Chris' day always starts with a large green shake made up of five to six different types of leafy greens and vegetables, low-glycemic fruits, nuts, seeds, fats and small amounts of sea salt," Perera says. He follows that up with a three-egg breakfast burrito on a spelt wrap with tomato salsa.
He also tries to have grains throughout the day — "steamed rice is a favorite, but sometimes he mixes it up with whole-grain or seeded breads, rice crackers, oats or potatoes." Lunch might be fresh tuna sashimi salad with leafy greens, avocado, walnuts and a half cup of sushi rice, and then a dinner of grilled lamb chops, cauliflower mash, grilled zucchini and roasted carrots.
Chris Hemsworth's Workout Routine
Zocchi has worked with Hemsworth for his past 12 films, creating a training routine that has him in the weight room six times a week during prep for roles like Thor. "He goes into work mode. It's almost like we're getting ready for a bodybuilding show," Zocchi says.
Heavy Lifting and Push-Pull Workouts
For the Avengers films, they focused on heavy weight lifting for 50 minutes a day. "Any more than that, you're doing more damage than good because your body can't handle the stress," the trainer says. He designed a push-pull routine rotating between chest and biceps (such as doing incline press, dumbbells flat bench press, dips and cable slides), back and triceps, and legs workouts.
"We do more shoulders and arms than chest because you see them in his Thor costume," Zocchi says. "Chris can bench press up to 110 ponds, so some sessions we'll go really heavy and only do six reps." Other days the focus is on less weight and more reps, such as front, lateral and rear raises.
Functional Movements and Body-Weight Exercises
On the flip side, active rest days with functional movements like bear crawls are essential to balance out the heavy lifting. Zocchi has Hemsworth do bear crawls almost every session, since they're a great low-impact warm-up exercise. "They don't look hard, but they're really hard," Zocchi says. "We bear crawled an entire soccer field in Thailand once and that was brutal!"
Hemsworth's routine also incorporated a lot of body-weight moves like burpees and squats, which he could do anywhere — even shooting on location or during press tours. "Most hotel gyms don't have a lot of equipment," Zocchi says. "So I always pack a few things in my bag like boxing gloves, pads, sliders and active bands."
Surfing for Cross-Training
Having grown up in Melbourne and now living in Byron Bay, Queensland, surfing is in Hemsworth's blood, and he still catches waves a couple of times a week. And while he might look a pro athlete, he doesn't excel at all sports. "When we were in Thailand, we started playing a bit of soccer," Zocchi says. "It's running the whole time... Chris was really bad because he's more of a sprinter. He can do short distances fast but not long distances!"