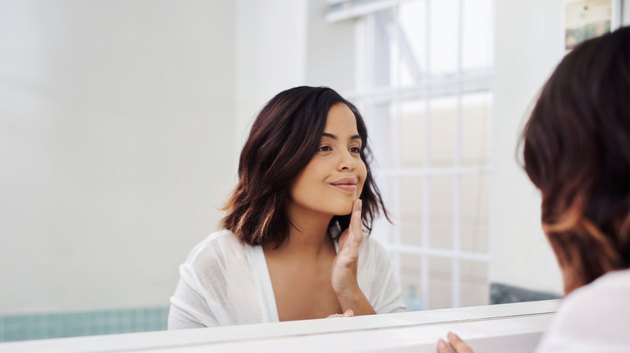 Together with Athleta, we're compiling actionable wellness advice you need from the experts — and Well+Good is bringing it to life at events in NYC. Here, Heyday skin therapist Shardae Boyce shares her four-step plan for starting a skin-care routine.
Workouts require sneakers and leggings, meal prepping calls for recipes and storage containers and each day you might be popping a multivitamin. But the essentials for a skin-care routine? Those are a little less clear-cut.
If you're resolving to take better care of your skin this year but aren't sure what to do first, licensed esthetician and Heyday skin therapist Shardae Boyce is sharing her tips for launching your path to a better complexion.
The biggest misconception about developing a skin-care routine, she says, is "that it takes a long amount of time, and that it takes tons of products. The right regimen is right because it fits the person, including their lifestyle and how and when they want to spend their time. If your regimen doesn't fit your life, it doesn't matter if that's what's best for the skin on paper."
To help you find your personalized regimen, Boyce broke down her advice into a four-step process to make getting started as easy as exfoliating.
1. Talk to a Pro
Getting a professional skin analysis might sound intimidating, but Boyce says getting a pro's input can be invaluable for starting your skin-care routine off on the right foot.
"Get a treatment from a trusted source to have your skin professionally analyzed," Boyce says. "Knowing your skin type and what conditions you should be targeting will help you look for key ingredients in products."
2. Start Simple
If you thought becoming a beauty maven would require loading up on a ton of products, Boyce is here to bust that myth. She believes you only need to start with the "core four" — cleanser, exfoliant, moisturizer and SPF.
"[These products] can get you on the right track and start making improvements while ensuring the overall health of your skin," Boyce says. And you'll barely need to clear any room in your medicine cabinet.
3. Stick to It
When you start a new fitness program, you don't expect to see results after your first gym session. In the same way, reaping the benefits of your skin-care regimen will require a little patience.
"It takes one month for a skin cell to shed," Boyce says. "We can't expect products to change our skin overnight." Instead, she advises committing to making skin care part of your daily life for six months (yes, that means washing your face every day), and then deciding whether it's working for you.
4. Don't Get Frustrated
When you're dealing with skin conditions you want to change, it can be easy to want to dub your skin as acne-prone and get discouraged that it's never going to change. But Boyce says putting a "bad skin" label on yourself isn't going to help (your complexion can be affected by your stress levels, after all).
"Skin is the largest living, breathing organ you have, and it is weird," Boyce says. "Redness, breakouts, eczema, whatever you have, it is all good skin. There is no such thing as bad skin."
Is This an Emergency?
To reduce the risk of spreading COVID-19 infections, it is best to call your doctor before leaving the house if you are experiencing a high fever, shortness of breath or another, more serious symptom.