Nutritionists work in a variety of roles and venues, including hospitals, schools, spas, clinics and outpatient care facilities. A nutritionist's annual salary will vary, according to healthcaresalaryonline.com, depending on the location and setting.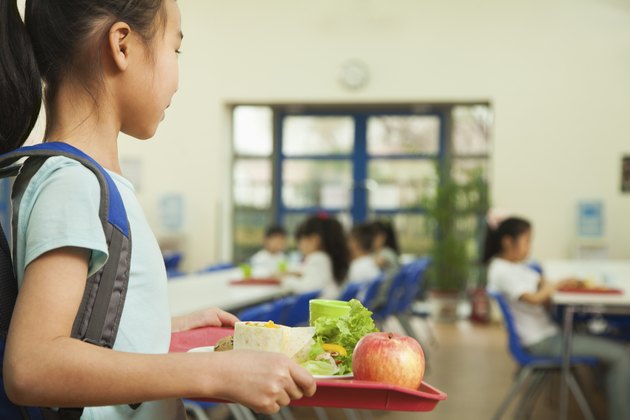 Annual Wage Estimate
According to the U.S. Bureau of Labor Statistics, nutritionists earn an estimated mean annual wage of $53,230, based on a 40-hour workweek. Median wage represents the 50th percentile wage estimate–meaning 50 percent of workers earn less than this amount, and 50 percent earn more. These figures represent occupational employment and wage statistics tabulated in May of 2009.
Industry Breakdown
The industries in which a nutritionist can earn the highest wages are general medical and surgical hospitals, nursing care facilities, local government, outpatient care centers and special food services. Within these industries, the top salaried nutritionist jobs are in management, scientific and technical consulting services at $75,100; the Federal Executive Branch at $68,390; home health care services at $62,050; health and personal care stores at $60,890; and medical and diagnostic laboratories at $60,150.
State Profiles
The District of Columbia and the states of Delaware, North Dakota, Pennsylvania and New York have the highest concentrations of nutritionists in the country, says the U.S. Bureau of Labor Statistics. A nutritionist can expect to make the most money if she works in Maryland, Nevada, California, Hawaii or Connecticut.
Work Categories
Nutritionists fall into four categories, according to College Degree Report: clinical, management, community and consultant. Clinical nutritionists and dietitians work in large institutions like hospitals and nursing homes. Management nutritionists and dietitians plan and supervise meals on a large scale for large groups of people–in school and office lunchrooms, for example. Community nutritionists counsel clients in public health clinics, HMOs and home health agencies. Consultant nutritionists are in private practice and share their expertise with a wide range of health care facilities. Consultants can also earn commissions on products such as health supplements, books and diet programs.
Future
Michael Farr and Laurence Shatkin, Ph.D., authors of "Best Jobs for the 21st Century," predict an above-average increase in jobs for nutritionists over the next decade, notes College Degree Report. This is due partly to the overall aging of Americans, who value the preventive and proactive role nutritionists have in health education and long-term health management.