Leg nerve damage, or lower limb peripheral neuropathy, can occur from trauma, muscle compression or systemic disease, such as diabetes. This can cause a patient to experience pain, numbness or weakness. Severe leg nerve damage may cause a patient difficulty when walking or standing. Treatments may help alleviate some of the symptoms of nerve damage in the leg.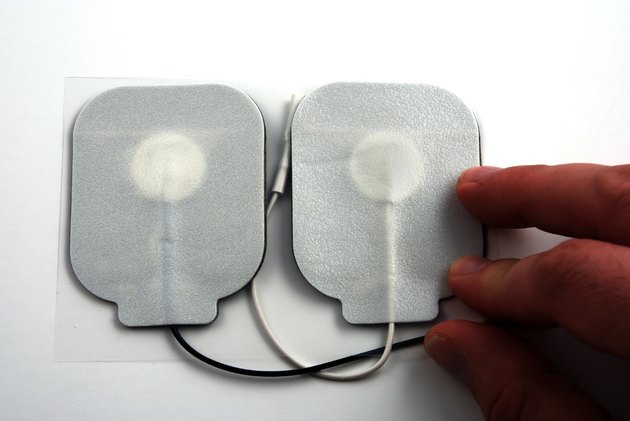 Treat the Underlying Disorder
Diabetes and alcohol abuse are examples of common systemic medical conditions that affect the nerves in the leg. Treating underlying medical problems is necessary to treat nerve damage. In the case of diabetes, a patient's blood sugar must be well-controlled to prevent further nerve damage. Alcoholics must stop drinking alcohol, which can lead to serious leg nerve damage. Once these underlying conditions are controlled, leg nerve damage may improve.
Pain Relievers
Another goal of treatment for leg nerve damage is treating pain associated with the condition. In mild cases, over-the-counter medications may be beneficial in treating pain related to leg nerve damage. A doctor will typically recommend nonsteroidal anti-inflammatory drugs -- NSAIDs -- because these medications reduce chemical signals related to pain and inflammation. If taken as directed, these medications are safe in healthy patients. In more severe cases, a doctor may prescribe antiseizure medications, such as gabapentin, or antidepressants, such as amitriptyline, to relieve pain. Side effects of these medications include drowsiness, dizziness, decreased appetite or constipation.
Transcutaneous Nerve Stimutation
To treat chronic leg nerve damage, a doctor may prescribe a transcutaneous nerve stimulator -- TENS unit. This is a small device that delivers small electrical currents to the area of leg nerve damage. The small electrical currents activate nerves that are not related to pain, decreasing signals sent to the brain from sensory nerves. To use a TENS unit a patient applies two adhesive leads to the area of nerve pain. The leads are connected to a small device that can clip to a patient's pants. The device is turned on and the currents are sent to the leads. TENS must be done frequently to be effective in reducing pain.