Hand tremors can arise for many medical reasons, so a proper medical diagnosis must be made before treating your hand tremors. If you hand tremors are a result of nutrient deficiencies, you may benefit from a treatment called the Myers Cocktail, which is given intravenously and includes a variety of vitamins and minerals to stop muscle spasms and tremors. Dr. Alan Gaby, a biochemist, has modified the original Meyers Cocktail and used it to treat a variety of illnesses, including muscle spasms and cramps.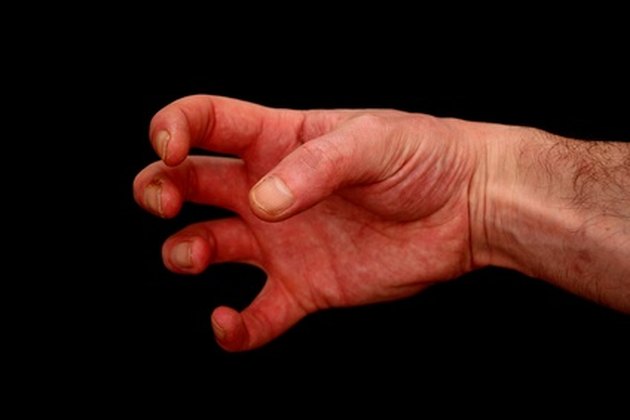 Magnesium Chloride
Magnesium is a mineral that naturally occurs in your body. It is also found in some foods. According to Drugs.com, magnesium plays an important role in the function of your muscles, nerves, heart and bones. Magnesium chloride supplements are used to treat or prevent a magnesium deficiency.
Drugs.com recommends against using magnesium chloride if you have kidney disease, stomach ulcers or disorder, or if you are dehydrated.
Calcium Gluconate
Calcium plays a vital role in bone formation and maintenance. You can find calcium in certain foods; as a supplement, calcium gluconate is used to prevent and treat calcium deficiencies, according to Drugs.com.
Drugs.com advises you to discuss your condition with your doctor prior to taking calcium gluconate for hand tremors, as it can interfere with the absorption of other medications. It is also advised to let your health care provider know if you have a history of kidney stones or have a parathyroid disorder.
Hydroxocobalamin B-12
Used to treat anemia and vitamin B-12 deficiencies, hydroxocobalamin is a natural form of vitamin B-12. Vitamin B-12 is one of the components of the Meyers Cocktail when used to treat patients suffering from tremors and muscle spasms. Drugs.com warns that hydroxocobalamin may interfere with other medications, and may cause allergic reactions.
Pyridoxine
Drugs.com says that pyridoxine --also known as vitamin B6 -- assists the body in breaking down proteins, fats and carbohydrates from foods. Vitamin B6 is used in the Myers Cocktail when treating patients for muscle spasms and cramps.
Vitamin B Complex
Dr. Alan Gaby has used vitamin B complex, which includes all eight vitamin Bs, including B-1, B-2, B-3, B-5, B-6, B-7, B-8, B-9 and B-12, in his Myers Cocktail formula to treat over 1,000 patients. Dr. Gaby claims that the formula is effective in treating a variety of medical conditions, including muscle spasms.
Vitamin C
Vitamin C is used in the Meyers Cocktail to reduce muscle cramps. Vitamin C is found in many foods such as citrus fruits, tomatoes, leafy vegetables and potatoes. It is essential for bones, connective tissue, muscles and blood vessels. Drugs.com warns that vitamin C can interfere with other medication, and have effects on unborn babies, so speak to your doctor prior to supplementing with this vitamin.