Flame Broiler is a fast-fast food restaurant chain that aims to serve customers healthier options rather than the typical cheeseburgers and chicken nuggets. Your meal comes with rice, vegetables and meat so you can eat a well-balanced meal in one bowl or on one plate. The nutrition information from the Flame Broiler website can help you determine which ingredients to order and how large your meal should be.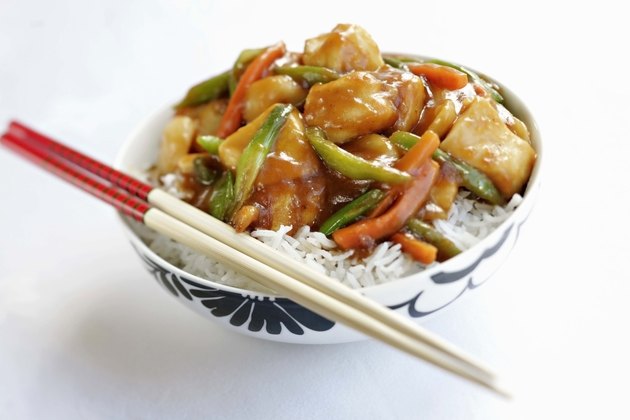 Bowls
The bowls at Flame Broiler come with white rice and either chicken or beef. The Chicken Bowl has 610 calories, 4.5 g of saturated fat and 43 g of protein. The Chicken and Veggie Bowl has only 530 calories, but still has 4.5 g of saturated fat. It also has 43 g of protein. The Beef Bowl contains 610 calories, 5 g of saturated fat and 48 g of protein. The Beef and Veggie Bowl still has 5 g of saturated fat, but decreases calories to 540. It has 47 g of protein. The addition of Flame Broiler's signature sauce adds between 430 and 480 mg of sodium to each bowl.
Plates
The plates contain more food than the bowls and are served with a green salad and a serving of seasonal fruit. The Chicken Plate has 850 calories, 7 g of saturated fat and 770 mg of sodium. The Beef Plate contains 860 calories, 8 g of saturated fat and 880 mg of sodium. The Chicken and Beef Plate and the Rib Plate each have 820 mg of sodium, but the Rib Plate has fewer calories with 730 versus 850. Each plate provides a significant amount of protein, with between 38 and 66 g. The salad and fruit add small amounts of fiber and vitamins.
Mini Bowls
The mini bowls have identical ingredients to the regular bowls but contain less food. Each mini bowl has 3.5 g of saturated fat. The Chicken Mini Bowl has just 376 calories and 239 mg of sodium. The Beef Mini Bowl has 384 calories and 287 mg of sodium. The Half and Half Mini Bowl has 378 calories and 308 mg of sodium. Each mini bowl provides between 32 and 41 g of protein.
Healthier Bowls
The alternate bowls contain all-white meat chicken rather than meat from the thigh or leg or lean rib-eye beef. These bowls also use brown rice instead of white rice. The website does not publish saturated fat and protein content for these bowls, but the saturated fat content will be less using leaner cuts of meat and protein will stay relatively similar. Sodium will remain the same because the same sauce is used. The Chicken Bowl has 500 calories and the Chicken Veggie Bowl has 440 calories. The Beef Bowl has 570 calories and the Beef and Veggie Bowl has 520 calories.
Considerations
Rice bowls can be a part of a healthy diet, report Yvonne Sanders-Butler and Barbara Alpert, authors of "Healthy Kids, Smart Kids," depending on what ingredients are included. Leaner cuts of meat will decrease fat and calorie content and vegetables will provide several important vitamins and minerals, as well as fiber. Brown rice is also a nutrient-dense food and will increase the nutrition of a rice bowl, add Sanders-Butler and Alpert. The sauces used in rice bowls are often very high in sodium, so placing them on the side or ordering less can help reduce your salt consumption.