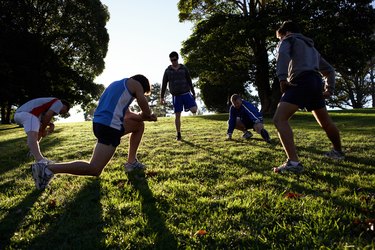 When you join together with other exercise-minded individuals to form a fitness team, you'll likely spend considerable time recruiting members, deciding which events to enter and even designing team T-shirts. One of the first orders of business, however, is agreeing on a name for your team. The name can pay tribute to your organization or community or can be as simple as catchy term or play on words.
Company Names
Fitness teams consisting of a company's employees can name the team after the company. For instance, the AT&T Running and Fitness Team was founded in 1978 and is organized around a stated mission, which includes providing opportunities for team building among employees, encouraging healthy lifestyles and wearing the company logo to promote the brand. The team's website provides such information as the team's history, its accomplishments, upcoming events and information on how to join the team.
Geographical Names
Many fitness teams name their groups after the state, city or community in which they are located. The Arkansas Cycling and Fitness Team's name tells you where it is located and indicates the team is comprised of cycling enthusiasts who are committed to fitness. Try changing the order of the words to see which works best for you. For example, choose between such options as Mt. Vernon Fitness Team, Fitness Team of Mt. Vernon or Team Mt. Vernon.
Acronyms
Building your team name from an acronym can provide a high level of personalization for your group. You create an acronym using the first letters of words. Your team might choose an acronym that states your group's core belief. The FLASH Fitness Club might refer to "fit ladies always stay healthy." The acronym might refer to location or some other identifying factor, as in the NICA Fitness Team, for the North Indiana Community Association.
Meaningful Words
The Remedy Fitness Team, a group interested in charitable works related to illness and disease, chose its name because "remedy" is a synonym for "fix," and the word encompasses the members' approach to life. Your fitness team could choose the word "empowered" or phrases such as "weight warriors" or "pound busters." Your word choices might employ a play on words and reflect a sense of humor, such as "a bunch of losers," referring to weight loss.