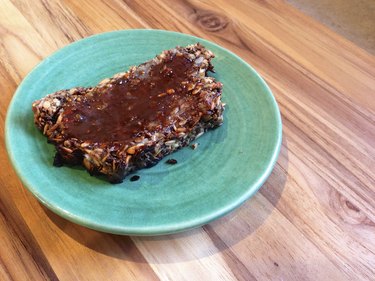 Marmite is the brand name of a spreadable yeast extract that has been manufactures in England for over 100 years. It has a rich flavor and contains a number of beneficial nutrients. Its main ingredient is brewer's yeast.
History of Marmite
The Marmite Food Company was originally set up in Burton-upon-Trent, England, in 1902. The company's mission has been to provide a tasty and healthy food product. According to the company website, the production process has hardly changed since the birth of the company. In the first stage of the process, the brewer's yeast is broken down in to proteins and soluble amino acids. This mixture is filtered before being passed through a secret flavoring process. The end result is a yeast extract paste. Vitamins and spice extracts are added, and the process is complete.
Marmite Nutrition
As well as yeast extract, marmite contains vegetable extract, salt, niacin, thiamin, spice extracts, folic acid, riboflavin, celery extract and vitamin B12. It contains 9 calories in a 4-gram serving. Marmite is very low in sugar, low in calories, contains no saturated fat and is completely vegetarian. To complement marmite spread, the Marmite company also produces marmite cereal bars, bread sticks, rice cakes and cheddar bites.
Brewer's Yeast
Brewer's yeast is made from a monocellular fungus known as Saccharomyces cerevisiae, which is used in the manufacture of beer. It is also grown specifically to make nutritional supplements. According to the University of Maryland Medical Center, brewer's yeast has been used for centuries as a supplement. It should not be confused with torula yeast, baker's yeast or nutritional yeast.
Health Benefits
Brewer's yeast is a good source of B complex vitamins, selenium and chromium; it also contains pantothenic acid (B5), pyridoxine (B6), niacin (B3), riboflavin (B2), thiamine (B1), folic acid (B9) and biotin (B7). These vitamins have a number of health benefits, including helping to break down carbohydrates, proteins and fats to provide your body with energy. They also help to maintain a healthy nervous system, support your digestive muscles and keep your eyes, hair skin, mouth and liver in good health.