Headaches and backaches are extremely common complaints that most people experience at some point. But there are many possible causes behind an achy spine or throbbing head, and some are more serious than others. Here, we'll take a look at the common culprits.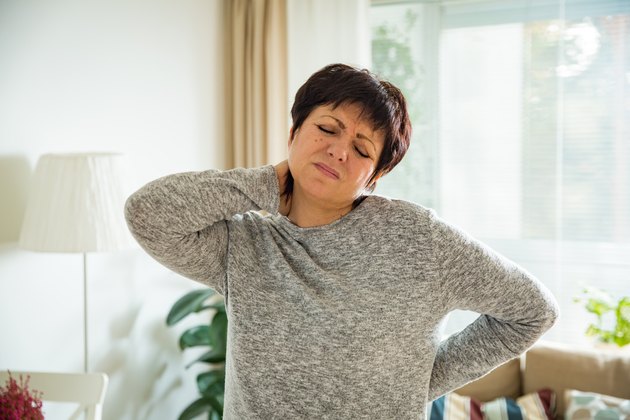 Common Causes of Headaches
Headaches not caused by medical conditions are usually categorized as migraine, tension or cluster headaches.
Migraine: Severe, throbbing headache that can last for three days; visual disturbances can occur as well
Tension headache: Results from muscle tension around the head and neck
Cluster headache: One-sided, with nasal congestion, a watery eye on the same side as the headache and stabbing pain
Some of the most common causes of these types of headaches include stress, a lack of sleep and muscle tightness, Medhat Mikhael, MD, pain management specialist and medical director of Orange Coast Medical Center for Spine Health in Fountain Valley, California, tells LIVESTRONG.com.
Primary Headache with Backache
Dr. Mikhael explains that there are actually two kinds of headaches: a primary headache and a secondary headache. "A primary headache is a headache that is not a symptom or a complication of a disease or an incident," he says. Migraine, tension and cluster headaches are all examples of primary headaches.
Factors such as strain or poor posture could contribute to a primary headache, as well as genetics, meaning some people are more susceptible to getting migraines and doctors can't always explain why.
Primary headaches can be caused by overactivity of the pain-sensitive features in your head, according to the Mayo Clinic. Certain activities can also trigger headaches, such as sex, exercise or coughing. Alcohol, lack of sleep, too much sleep, skipped meals, stress, wearing tight-fitting headgear and poor posture can also play a role.
If a primary headache is severe enough, the pain may radiate to the upper back. But the most common cause of a backache, says Dr. Mikhael, is a muscle strain, which may be unrelated to the headache.
Secondary Headache with Backache
Secondary headaches are triggered by an incident, disease or other condition, says Dr. Mikhael. Some possible causes include:
Head trauma, including a concussion
Brain tumor
Ischemia or stroke
Cerebral infection
Dural puncture (such as an epidural)
Medication-induced
Viral or bacterial infection, including encephalitis, influenza, meningitis or sinusitis
Some of these conditions can cause a backache as well.
Warning
If you experience headache along with a stiff neck, dizziness, nausea or vomiting — or have trouble seeing, speaking or walking — seek emergency medical help.
Premenstrual Syndrome and Postpartum
"Premenstrual syndrome (PMS) is usually manifested by backache and headache," says Dr. Mikhael, which he explains is usually due to major hormone fluctuations and associated with other symptoms such as bloating, weight gain, anxiety and depression.
You can treat PMS with diuretics, anti-inflammatory medications and antidepressants; stress reduction and improvements in diet also can help.
Women who are postpartum may also experience headaches and back pain, which can be normal thanks to birth and baby-related factors such as exertion, lack of sleep, stress, hormonal changes and physical aspects of labor. But Dr. Mikhel notes that a persistent and severe headache after labor could be serious, as it could be a preeclampsia symptom caused by severe hypertension that must be treated immediately. Left untreated, preeclampsia can lead to major complications including stroke, bleeding and possibly even death.
Some women who have had an epidural may also experience a headache days after giving birth, says Mary Kay Betz, PA, a licensed physician assistant and national headache lecturer based in Buffalo, New York. A headache after receiving an epidural is related to the dural puncture and, in many cases, can be treated very easily with a caffeine patch. Speak to your doctor if you are having symptoms of a severe headache and have recently had an epidural or given birth.
Alternating Irritable Bowel Syndrome
Headaches — and sometimes even backaches — can be symptoms of alternating irritable bowel syndrome (IBS). IBS causes major abdominal pain and severe cramps that are usually transferred to the back, says Dr. Mikhael. "Migraine headaches and IBS are actually very common symptoms to accompany each other," he adds. "Some theories link it genetically [and] some link it to the serotonin neurotransmitter."
The serotonin receptor responsible for migraine headaches is actually found to a much greater degree in the gut than in the brain, says Betz. She adds that diarrhea is also closely associated with migraine headaches.
Although there is no cure for IBS, symptoms can be managed with the help of added soluble fiber in the diet, along with anti-diarrhea medications and other drugs.
When to See a Doctor
If you are experiencing the occasional headache and achy spine, there is no need to worry, says Dr. Mikhael — simple things like a muscle strain or even stress can lead to headaches and backaches. However, if the symptoms persist, worsen or become associated with other symptoms like fever, nausea, vomiting, blurred vision or numbness or tingling in the legs or hands, you should consult a doctor immediately. These symptoms could signal a more serious condition, such as an infection, encephalitis, meningitis, influenza or sinusitis.
"A headache that is severe, associated with systemic symptoms like altered level of consciousness, chills, fever, blurring in vision or neurological symptoms including seizures warrant an immediate trip to the ER as this could be a sign of a serious illness," he explains. "The earlier you have a doctor treat it, the better the outcome."
You should also see your doctor for frequent, severe headaches or back pain that doesn't improve within 72 hours. The Mayo Clinic advises seeking emergency medical care if back pain spreads down your legs, causes weakness and tingling in legs or is accompanied by incontinence.