Ethiopia is often associated with starvation and malnutrition, but the traditional cuisine is worth considering. Although many people in Ethiopia are malnourished and underfed, that doesn't mean that their food isn't nutritious. In fact, most Ethiopian dishes are nutrient-dense and low in fat. It's worth seeking out authentic Ethiopian food because, in addition to being nutritious, it also has a flavor and depth that you won't find anywhere else.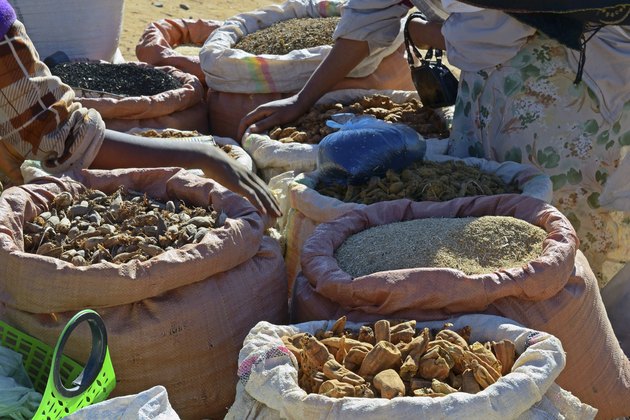 Grains Are Essential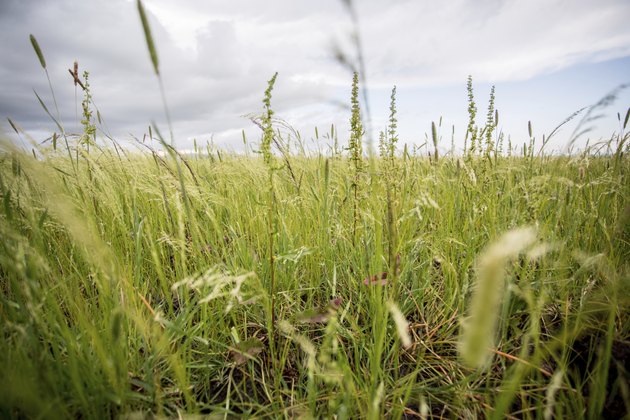 Grains are one of the primary mainstays of the Ethiopian diet. Teff is a whole grain that's used to prepare many Ethiopian dishes, according to Marcus Samuelsson, a native Ethiopian writing for "Cooking Light" magazine. Teff is used to make injera, a type of spongy bread that's eaten with most meals. It's often used to scoop up stews, making it like edible silverware. According to Eve Zibart, author of "Ethnic Food Lover's Companion," teff is high in iron, making it a nutritious part of the Ethiopian diet. Oats, barley, millet and sorghum, which are high in fiber, are additional grains prominent in the Ethiopian diet.
Vegetables and Legumes are Stars, Too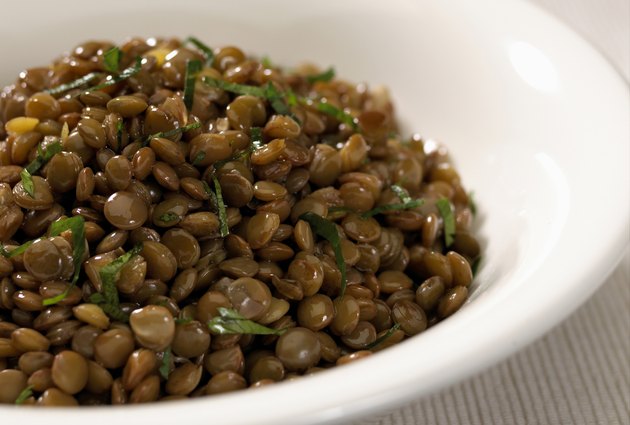 Lentils are one of the most common Ethiopian foods, and they are often used as a condiment, Zibart notes. Lentils are high in fiber, protein and iron, and are also low in fat. The traditional Ethiopian diet includes a variety of vegetables that supply fiber, potassium, vitamin A, vitamin K and folate. Among these are cabbage, kale, tomatoes, carrots, potatoes and cauliflower. Sauteed collard greens are called gomen kitfo and are rich in iron and fiber. Eggplant and sweet potatoes appear in certain Ethiopian dishes, as well. Ethiopians simmer red onions, which are a good source of vitamin C, to prepare a sauce called wat that's often served with meat or vegetable stews. Some wat recipes also include spicy peppers and garlic. Peanuts are added to a few Ethiopian recipes, too, and they're a good source of protein and heart-healthy unsaturated fats.
Meat is Scarce
Because meat is expensive, it doesn't have a prominent place in the traditional Ethiopian diet, especially for those people living in rural areas. Tibs is the generic name for a serving of meat, and it is often served with vegetables. Lamb and goat are the most popular meats in the Ethiopian diet, according to Philip Briggs, author of "Ethiopia." Chicken is also included in certain Ethiopian dishes, as is beef. Thinly sliced pieces of beef marinated in powdered spicy peppers is called kitfo and supplies protein and iron. In areas of Ethiopia near lakes, fish are included in the traditional diet, as well. The meat Ethiopians eat supplies iron, zinc and vitamin B-12 to their diets. Low meat consumption also means that the people take in less saturated fat than the average Western diet, and that can reduce the risk of heart disease.
Additional Ethiopian Foods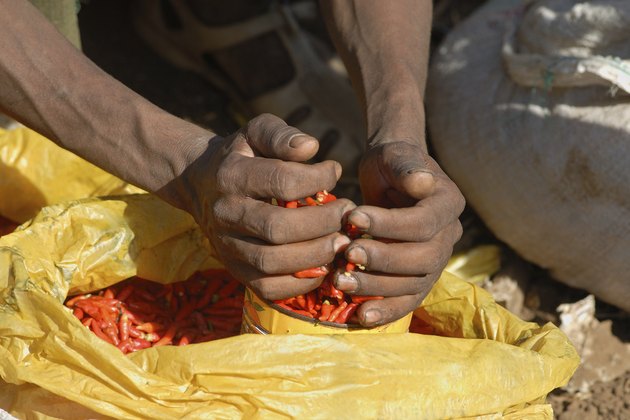 Hot sauces are a common addition to Ethiopian recipes, Zibart notes. The spicy peppers used in these sauces add a small amount of vitamin C to the Ethiopian diet, which is definitely a benefit because many Ethiopians don't eat a lot of fruit. Milk and honey are traditional Ethiopian foods, too, and the milk supplies a good amount of calcium. Eggs are less common, but when they're eaten, they add protein to the Ethiopian diet. Eggs are often eaten for breakfast in a dish called fatira, which combines the egg with a pancake and is often drizzled with honey.