Understanding the number of calories you need daily can help prevent unwanted weight gain or loss. At age 15, girls need adequate calories to support proper growth, energy and development. Once you understand how many calories you need, you should focus on getting those calories from healthy foods to support your energy and nutrition needs.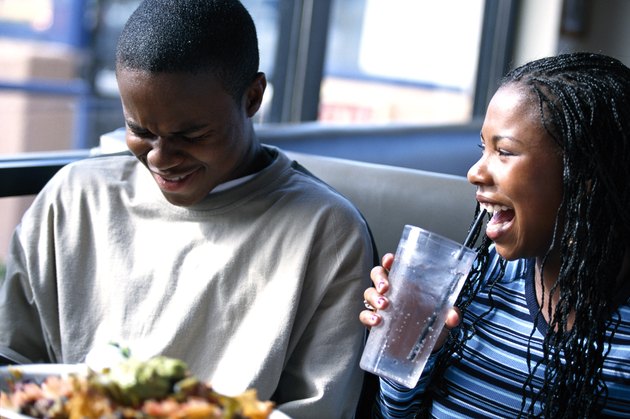 All About Numbers
A teenage girl, between the ages of 14 and 18 years should consume between 1,800 and 2,400 calories per day, as per the 2010 USDA Dietary Guidelines for Americans. As a 15-year-old, you should aim for the lower end of this range, especially if you are not particularly active. If you participate in sports, dance or another active pursuit, you may need to target the higher range.
Be Flexible
The calorie recommendations for teenagers are based on the average height and weight for the age group. Although it is generally recommended that younger adolescents eat fewer calories than older, a very active 15-year-old girl may need more calories than a sedentary 17-year-old girl. If you are tall for your age, you may also need more calories than someone who is more petite.
Focus on Food Quality
Knowing that you need about 2,000 calories per day is important, but you should also pay attention to what types of foods you choose to make up these calories. Healthy choices can help support your nutrition needs and give you energy. Most of your meals and snacks should focus on healthy items, such as fresh fruits and vegetables, whole grains, low-fat dairy and lean meats. Keep sugary drinks, baked goods, candy, white bread and fried foods to a minimum.
Meal Ideas
A typical 2,000-calorie diet for a 15-year-old should begin with breakfast. Try a whole-wheat English muffin with 2 tablespoons of peanut butter and a glass of skim milk. For lunch, skip the fast food burger and fries or a pale, skimpy salad doused with ranch dressing; instead, opt for a simple sandwich made with two slices of whole wheat bread, 2 ounces of turkey breast, mustard, shredded romaine lettuce and slices of tomato. Have a cup of vegetable soup and an apple on the side. For dinner, have 1 cup of whole wheat pasta with half-cup of marinara sauce and 4 ounces of grilled chicken. Enjoy a green salad on the side made with dark leafy lettuce and any additional vegetables you like. Choose one topping, such as shredded cheese, avocado or nuts and dress with just 1 tablespoon of light Italian or other olive oil-based dressing. Snacks are important to your energy and nutrition, as well. Choose two of the following between meals: 2 sheets of Graham crackers with 1 cup of skim milk; one serving of whole grain, flaked cereal with half-cup of skim milk; 1 ounce of pretzels with quarter-cup of salsa; 1 cup of fruit salad with 1 cup of plain, nonfat yogurt and 1 tablespoon of honey; 1 ounce of baked tortilla chips with quarter-cup of hummus; or 1 cup of applesauce mixed with half-cup of low-fat cottage cheese.
Is This an Emergency?
If you are experiencing serious medical symptoms, seek emergency treatment immediately.