Jelly Belly is a company that manufactures a variety of types of candy, most notably jelly beans. One of the Jelly Belly products offered by the company is an energizing jelly bean called Sport Beans. Jelly Belly claims Sport Beans' scientifically formulated ingredients maximize sport performance. Sport Beans contain carbohydrates, the electrolytes sodium and potassium and vitamin B1, B2, B3 and C. Another Jelly Belly product, called Extreme Sport Beans, also features 50 mg of caffeine. Jelly Belly Beans are at best a marginal source of energy for any physical activity, including running. While Jelly Belly Sport Beans do contain a minimal amount of beneficial vitamins, there is no scientific evidence that supports consuming this product as a good source of energy.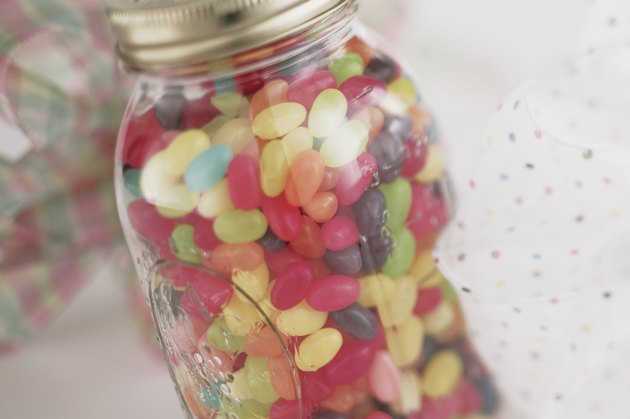 Ingredients
Ingredients found in Jelly Belly Sport Beans include evaporated cane juice, tapioca syrup, citric acid, apple juice from concentrate, lime juice from concentrate, raspberry juice from raspberry puree, lemon juice from lemon puree, citrus pectin and orange juice from orange puree. Additional ingredients include salt, potassium citrate, sodium lactate, sodium citrate, grape skin extract, natural flavor, confectioners glaze, ascorbic acid, curcumin, annatto, beeswax, carnauba wax, niacinamide, thiamine hydrochloride and riboflavin.
Nutritional Content
A 1 oz. serving size of Sport Beans contains 100 calories. Sports Beans have 21 g of sugar, 80 mg of sodium and 40mg of potassium. The amount of vitamin C, thiamin, riboflavin and niacin accounts for approximately 10 percent of the Food and Drug Administration's daily recommended value of these nutrients based on a 2,000-calorie diet. These recommended daily values generally increase if you exercise regularly. The vitamins found in Sport Beans can aid in the maintenance of some vitamin levels.
Value of Energy
According to "Harrison's Principles of Internal Medicine," alcohol, coffee, corn, sugar, starches, excess carbohydrates and folic deficiency can impair vitamin B1 and B3 absorption. Vitamin B2 absorption improves when taken with foods. Tryptophan deficiencies can lower vitamin B3 levels, and your body needs good levels of phosphorus to guarantee that enzymes involved in the metabolism of vitamins work properly. While Jelly Belly Beans may provide some quick energy, ingredients found in Jelly Belly Beans can actually deplete energy levels in your body.
Carb Loading
The manufacturer recommends consuming one packet of Sports Beans 30 minutes prior to exercising and eating an additional packet every 45 minutes during a workout. In a sense, the timing recommended by the manufacturer is a form of carbohydrate loading. Carbohydrate loading can extend your athletic endurance. However, the nutritional value of the carbohydrates found in Jelly Belly Beans is not your best source of energy, and less than ideal for carbohydrate loading. Carb-loading diets not only require a better source of carbohydrates, but also require dietary changes for a few days prior to an endurance event.