Vitamin E plays an important role in the body, defending your cells from free radicals and assisting in the production of red blood cells. Although there is no proof at time of publication, research is being conducted into the role vitamin E plays in the prevention of heart disease, cancer and stroke. As an all-around beneficial vitamin, vitamin E has long been associated with skin care. It has been marketed as a cure for acne, but there may be limits to its effectiveness.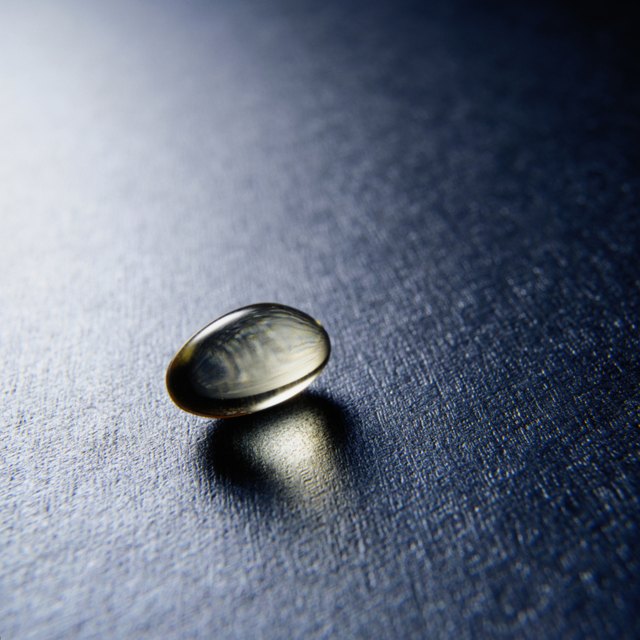 Oral
Studies have suggested that oral vitamin E supplements may help relieve acne, but not the way you would think. A 2006 study in "Clinical and Experimental Dermatology" tested the blood of 100 acne sufferers and found that they had low levels of both vitamin A and vitamin E -- in fact, the lower the vitamin A levels, the worse the acne. Supplementation with both of these vitamins improved the acne, so it may be supposed that a vitamin E deficiency may play a role in the development of acne. A supplement would relieve the deficiency, removing the condition that allowed the acne to flourish. It is not known, however, if the same results would be had in the absence of the vitamin A supplement.
Topical
Vitamin E is frequently an ingredient in lotions and moisturizing soaps. The antioxidant properties may help guard against sun damage and wrinkles, but there is no evidence that it helps alleviate acne. In fact, because vitamin E is an oil, a topical application to acne-prone skin may actually make matters worse. Topical vitamin E is generally reserved for people with very dry skin.
Dosage
According to MedlinePlus, adults need about 15 milligrams of vitamin E per day. This is not a case of "more is better," because very high doses -- about 20 times the recommended amount -- can increase your risk of death. Dosage varies from person to person, and may be higher for pregnant or breastfeeding women. Children's dosages depend upon age, and men may need slightly more than women. See your doctor for a dose that's specifically tailored to you.
Foods
Instead of relying on a supplement, expand your diet to include foods rich in vitamin E. Fortunately, vitamin E foods are a part of a overall healthy diet, so you will reap the benefits of a wide range of nutrients. Leafy green vegetables and asparagus contain vitamin E, as do nuts, seeds and wheat germ -- found in whole-grain bread. Olives and olive oil are heart-healthy fats that contain vitamin E, and vegetable oils provide it in a less-expensive alternative.