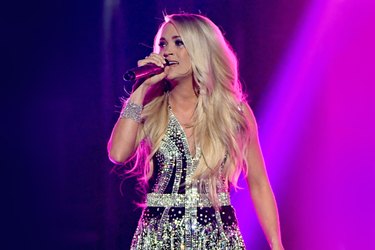 When Carrie Underwood was on "American Idol," she put on 20 pounds. During a 2008 interview with "Shape" magazine, she made it clear that this is a common occurrence for many of the contestants on the show. The stress of performing plus the fact that they are frequently eating out makes it hard for them to keep their weight in check. After the show was over and she went on tour, Carrie lost all the extra weight by completely overhauling her diet.
Do you want to lose weight or be healthier? Join MyPlate Calorie Counter and get access to free meal plans, healthy recipes and at-home workouts. You'll also get daily calorie and macro goals for your fitness journey. Don't miss your chance for amazing results. Sign up today!
Food Choices
Carrie Underwood is a vegetarian. Although her family has a cattle ranch, she realized she didn't want to participate in the killing of animals and completely changed her diet. She also restricts how often she eats out or eats catered and processed foods as much as possible. In a 2011 interview with the "Taste of Country" website, Carrie explained that she tries to cook her own food as often as possible. She even stocks her own fridge to take along when she's on tour. That way she can keep track of what goes into her diet and how many calories she's consuming.
Calorie Counting
The famous singer believes in calorie counting. Because she writes down everything she eats, she can keep track of times when she overdoes it or when her choices are not the best. She can then make changes to her routine and be prepared for the next time a craving hits. According to a report from ABC News, Carrie confesses she has to watch what she eats in order to keep the weight off. To keep things on check, she keeps a food journal and writes down everything she eats and drinks.
What She Eats
Carrie eats several times a day and never misses breakfast. Cereal or an English muffin are common breakfast foods. For lunch, Carrie eats a combination of protein and carbs. Because she's a vegetarian, she might have a veggie burger or beans for her protein. Carrie limits the amount of carbohydrates such as pasta and pizza. Instead, she eats vegetables such as spinach and tomatoes for energy. Carrie doesn't have a structured meal plan. Instead, she eats small amounts throughout the day so she doesn't get too hungry.
Cravings
Carbohydrates are the singer's biggest downfall. To satiate her cravings for sweets and carbs, Carrie eats Healthy Choice ice cream sandwiches and Kashi cereal. She also likes 100-calorie pack snacks, so she can satisfy her cravings without having to worry about how many calories she's consuming.