A migraine headache is often felt as a throbbing and pulsating pain on an area of the head that may be accompanied by nausea, vomiting or sensitivity to light and sound, according to the National Institute of Neurological Disorders and Stroke. Many people take pain medication, such as Excedrin, to relieve migraine pain; however, Excedrin contains acetaminophen, aspirin and caffeine, which may contribute to unwanted effects if Excedrin is taken in excess.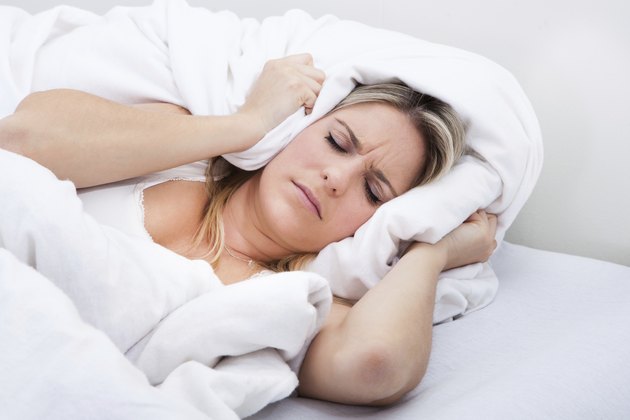 Effects From Too Much Acetaminophen
Acetaminophen is an ingredient in many painkillers, including Excedrin. One problem with acetaminophen is that a person can take too much of the substance without realizing it. This usually occurs when a person takes too much of a product or takes more than one product that contains acetaminophen. For example, a person may take more than recommended levels of Excedrin or take Excedrin and Tylenol, which also contains acetaminophen. Too much acetaminophen can cause liver damage, according to a study published in the Nov. 29, 2005, issue of "Hepatology."
Effects From Too Much Aspirin
Aspirin is a painkiller and is found in Excedrin. Taking too much at once may cause acute toxicity, and too much over several days may lead to chronic toxicity, according to the Merck Manuals. A person with acute toxicity may have nausea, vomiting, ringing in the ears, hyperactivity, confusion, seizures and respiratory failure. Symptoms of chronic toxicity include fever, confusion, dehydration, low blood pressure and difficulty breathing.
Effects From Too Much Caffeine
Excedrin contains caffeine, which helps to relieve symptoms of migraine. Too much Excedrin means too much caffeine. Taking too much Excedrin may cause jitteriness or anxiety, especially if taken with another caffeinated substance, such as coffee or soda, according to the Mayo Clinic. Insomnia may also occur with too much caffeine. A person taking too much caffeine is likely to perk up but is also likely to have a crash in energy that happens very quickly.
Rebound Headache
The combination of acetaminophen, aspirin and caffeine may cause people who take Excedrin to experience rebound headaches, according to Dr. David Buchholz, author of "Heal Your Headache." A person takes Excedrin for a migraine, which goes away; however, another migraine starts in a few days or weeks. The person takes Excedrin for that migraine, and the cycle continues. The body may begin to get used to Excedrin, so more is required to stop the migraine. Buchholz recommends not taking Excedrin for migraine to prevent rebound headache.
Is This an Emergency?
If you are experiencing serious medical symptoms, seek emergency treatment immediately.