Protein is important for breast-feeding women. They need more protein than the average woman in order to support the needs of their bodies as well as those of their rapidly developing infants. While women can generally get enough protein in their diets to support lactation, some women may need a little extra help. Supplements can help fill in the gaps.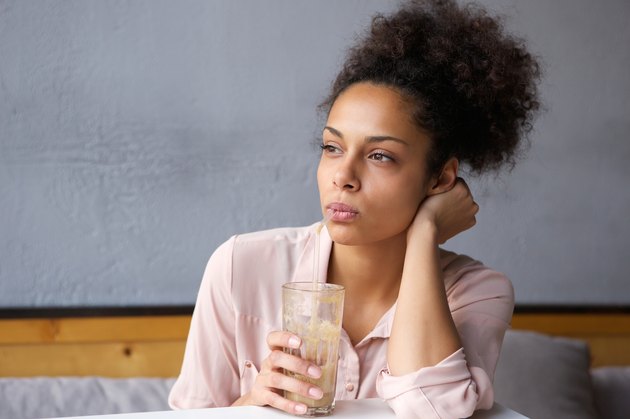 Protein and Breast-feeding
While the needs of breast-feeding mothers differ from woman to woman, the University of Michigan Medical School recommends that breast-feeding mothers get around 15 g more than their usual recommended intake per day. Ohio State University simplifies this by recommending all breast-feeding women aim for the same amount they got when they were pregnant: about 71 g daily. While this may seem like a lot, it is only about three servings of protein-rich foods. The quality of the protein, however, may play as much of a role as its quantity.
Complete Proteins
Women who need protein supplements to make up for what may be lacking in their diets need to look for particular types of amino acids. There are nine essential amino acids, or protein building blocks that the body does not produce on its own. Per the University of Michigan Medical School, you should always look for a supplement that contains all nine or you may miss out on key nutrients. They include histidine, isoleucine, leucine, lysine, methionine, phenylalanine, threonine, tryptophan and valine.
Ready-to-eat Supplements vs. Powders
Protein bars and pre-made shakes may seem like an easy fix -- grab and go to meet your daily minimum requirements without much thought or effort. While they are fine in a pinch, they may not be an optimal long-term protein supplement based on their other ingredients. In order to taste appealing, many pre-packaged supplements have added sugars and fats. In addition, they may be higher in calories than you think. Some also contain extra supplements that may not be safe for breast-feeding women, including herbal products. Protein powders, on the other hand, tend to be lower in sugar and calories and can be easily added to almost any type of food. Neither option is cheap, however.
Other Supplements
While not marketed as high-protein powders and not as glamorous as pre-packaged supplements, there are other natural products you can add to your meals to boost your protein intake. Some easy and tasty options include ground flaxseed and wheat germ. Both can be sprinkled on top of food, or added to a smoothie such as protein powder. Per the website What to Expect, 2/3 cup of wheat germ is enough to satisfy one of your three recommended daily protein servings. You can also get the same from a cup of flaxseed.
Alternate Sources
You don't have to spend your money on supplements to get extra protein in your diet. In fact, the University of Michigan Medical School recommends egg whites over egg-based protein powders, as you can get the same benefits at a fraction of the cost. You can also opt for high-protein grains such as quinoa and bulgur over pasta, or add a handful of nuts to your salad. To make a high-protein smoothie without protein powder, try adding ground walnuts to milk and peanut butter, which can take care of a whole protein serving in one easy and delicious drink. A little creativity can go a long way toward your daily protein intake while saving the contents of your wallet.