Carbohydrates and fat are your body's primary sources of fuel for long-distance running. The amount of each nutrient you use depends on duration and exercise intensity. As long as your body has a steady supply of oxygen and carbohydrates, fat will be used as the preferred fuel source to keep you running.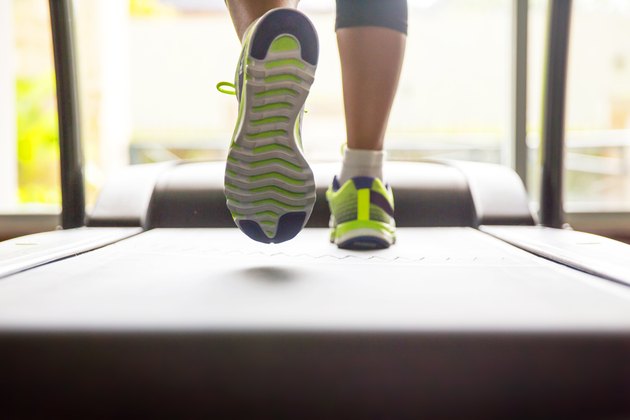 Aerobic Respiration: The Fat Burner
Your body doesn't automatically break down large amounts of fat immediately when you start your 30-minute run. It uses different amounts of carbohydrates and fats during different times in your run, which is similar to how your car changes gears as it accelerates or decelerates. Although your body uses fat as the main fuel source during a 30-minute run, it needs energy immediately to power your muscles and nervous system during the first couple of minutes of the run. Therefore, carbohydrates in the form of glucose are used as the main fuel source. As you continue to run, your body gradually increases the amount of fat used. According to ExRx.net, it can take between 20 to 30 minutes of continuous aerobics for an average person to use 50 percent of his energy expenditure from fat and 50 percent from carbohydrates. People who are more conditioned usually take less to time to achieve this state of energy use.
Percentage Used
The amount of fat used during a 30-minute run can vary, depending on your heart rate, running method and fitness status. During low-intensity exercise for 30 minutes, such as walking or jogging at 20 to 25 percent of your maximum heart rate, a majority of your energy comes from fats, usually about 60 percent. As exercise intensity increases, your body relies more on carbohydrates for energy, which can get as high as 60 percent at 50 percent or more of your maximum heart rate.
Lactate Threshold
When glucose is converted to pyruvate during fat metabolism, it enters your cells' mitochondria -- the energy generators of your body -- to initiate the breakdown of fats. However, when running intensity increases, your body relies more on carbohydrate metabolism to produce more energy. Instead of converting to pyruvate, glucose converts to lactate. When the rate of lactate accumulation in your muscles exceeds the rate of lactate removal, you have reached the lactate threshold. Once this point is reached, your muscles reduce their contraction rate and fatigue settles in, forcing you to slow down or stop to catch your breath. If you're not conditioned in running, your body is more likely to use more carbohydrates than fat for energy. However, a study performed at the University of Guelph in Ontario, Canada, showed that untrained subjects can improve their fat metabolism significantly by about 60 percent after six weeks of high-intensity interval training three days a week.
Exercise Afterburn
Your body continues to burn fat after exercise, not just during the 30-minute run. After a bout of exercise, your body enters a condition called excess post-exercise oxygen consumption -- or EPOC -- in which energy from fats and carbohydrates is used to heal damaged tissues and restore your body to its pre-exercise state. This can last between 15 minutes to 48 hours, according to exercise physiologist Len Kravitz. In a study performed at Appalachian State University in North Carolina, researchers measured the number of calories burned after 10 male cyclists completed 45 minutes of high-intensity cycling. The subjects sustained a high metabolic rate for 14 hours after the exercise session was completed. This concept can be applied to all exercises, including running.