Running is a popular weight loss exercise but unless you know how long to run and at what intensity, you may not see a change on the scale. Twenty minutes of running will burn fat but you need to figure out your daily exercise needs to reach your weight loss goals. Tracking your food and workouts on an online calorie counter is a great tool to set yourself up for success.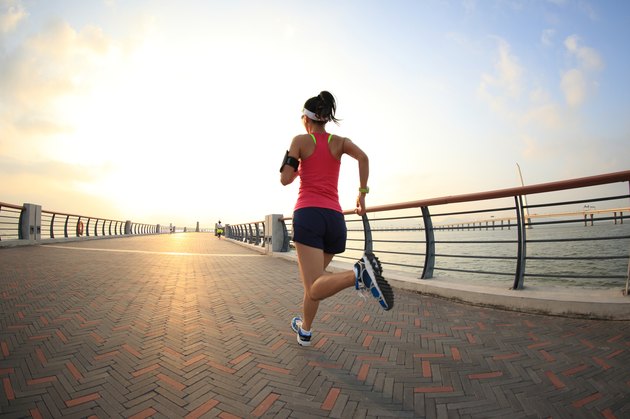 Burning Fat
Any exercise you do, from walking slowly to sprinting as fast as you can, will burn calories. According to the American Council of Exercise's physical activity calorie counter, a 150-pound person will burn about 181 calories running at a pace of 5 mph for 20 minutes. Your body prefers to burn calories in the form of carbohydrates but once you run out of available carbohydrates, it will burn fat. If you are carb-deprived, your 181 burned calories will be fat loss.
Losing Inches
While 181 calories may seem a significant calorie burn you need to burn 3,500 calories to lose a pound of fat. If you're aiming to lose a pound of fat per week, you'll need to burn 500 calories per day. That means you'll have to run almost an hour at your 5 mph pace. You can also increase the intensity of your run to burn calories more quickly. Running at a pace of 8 mph, you'll burn 306 calories in 20 minutes.
Introduce Intervals
If you want to get the best bang for your buck, try high intensity interval training, HIIT, for 20 minutes. HIIT consists of high intensity exercise such as sprinting, followed by longer intervals of active recovery such as walking. A study published in the 2011 issue of the "Journal of Obesity" noted that interval training is more effective at reducing body fat than other types of exercise. Another benefit to high intensity training is that it causes exercise after-burn, a physiological effect that causes your body to continue burning calories for up to 48 hours after you've finished your workout.
Considerations
Always start and end your run with a warm up and cool down such as a light jog. The warm up will increase blood flow and prepare your muscles for the work ahead. The cool down will slowly return your heart rate to its pre-exercise state. Stretch your muscles after your cool down to reduce muscle injuries. Stop running immediately if you feel any sudden pains or strains. High intensity interval running is not for everyone. Speak to your doctor before embarking on vigorous activity.