Neck stiffness and limited range of motion often are the result of poor spinal alignment when sleeping on a soft mattress or thick pillow. After hours of being bent in an unnatural position, the muscles in your neck can suffer spasms or nerves can become irritated. Occasionally, though, a stiff neck may be a symptom of something more serious.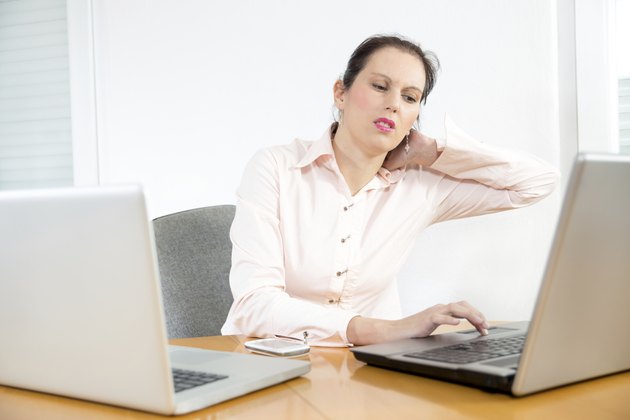 Neck Strain
Your neck has muscles, tendons and ligaments that may become stretched or torn during sudden, sharp movement. In the case of muscles and tendons -- the tissue that connects muscles to bones -- such an injury is called a strain. In ligaments -- the tissue connecting two bones together -- it's called a sprain. In either case, doctors generally recommend cold therapy during the first two to three days, over-the-counter pain medication as needed and gentle massage if it does not cause additional pain.
Tension Headache
A stiff neck also may be associated with tension headaches. Originally thought to be caused by long-term muscle contraction due to stress, tension headaches now are believed to be a result of overactive pain receptors and problems with nerve signals to the brain. Stress and mood disorders also may play a part. Because tension headache triggers include bad posture and holding uncomfortable positions for too long, they may manifest with a decreased range of motion in the neck.
Meningitis
A stiff neck in combination with a fever and headache may indicate meningitis, or swelling of the tissues around your spinal cord and brain. Meningitis usually is caused by a viral infection but also may be caused by bacteria or a fungal infection. While many cases resolve themselves without treatment, complications can be serious, even life-threatening. For this reason, seek medical help if you have meningitis symptoms. Getting treatment quickly reduces the risk of serious problems.
Cervical Dystonia
Cervical dystonia, or spasmodic torticollis, is a rare medical disorder that causes painful, involuntary neck muscle contraction. The disease may force your head to twist forward, backward or sideways uncontrollably. Most common in middle-age women, cervical dystonia can occur at any stage of life and has no permanent cure. Surgery may help severe cases, and injections of botulinum toxin can reduce symptoms for a period of time. It occasionally disappears on its own with no treatment.