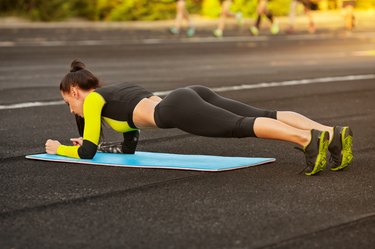 The Insanity workout was created for Beachbody Home Fitness by personal trainer Shaun Thompson. The two-month program, designed to be done at home, is advertised on television informercials and requires no special equipment. The Insanity workout focuses on the exercises demonstrated on 10 DVDs. As the Beachbody website notes, Insanity uses a variety of plyometric drills combined with interval training. Insanity, as its name implies, is for conditioned athletes, and really isn't designed for a fitness novice or someone who isn't already in excellent shape.
Dig Deeper and Fit Test; Plyometric Cardio Circut
In the first DVD, Dig Deeper and Fit Test, the goal is to evaluate your fitness state. You perform eight different exercises for a full minute each, including exercises such as squat jacks and power jumps. In the second program, the Plyometric Cardio Circuit, Shaun T runs you through fat-burning plyometrics and intervals of high-speed cardio exercises.
Cardio Power and Resistance; Cardio Recovery
The third DVD takes you through Cardio Power and Resistance, which the Beachbody website describes as an exercise routine designed to "build lean muscle and upper-body definition" by using Shaun T's "power moves" in combination with strength training. The first wave includes such exercises as bell kicks and pushups, done rapidly for 30 seconds, with a second wave of exercises including hurdle jumps and hop squats. This is followed by Cardio Recovery, which is a slowed-down, lighter round of exercises meant to give you a bit of a break from the Cardio Power exercises so you can recover and prepare for the intense exercises to come.
Pure Cardio and Cardio Abs; Core Cardio and Balance
The Pure Cardio and Cardio Abs routine, found on the fifth DVD, skips the interval training entirely and focuses purely on nonstop cardio. The focus here is on working abdominal muscles, with an intention of strengthening your core. This is followed by Core Cardio and Balance, which is meant to come after your first month on the Insanity regime, marking the halfway point in the two-month program. This routine focuses on core exercises intended to gear up for the second half of the program.
Max Interval Circuit and Fit Test; Max Interval Plyo
The second half of the Insanity program begins with a 25-minute Fit Test to determine the kind of progress made over the past month. In the Fit Test, you perform the same exercises as you did in the earlier Fit Test. This is followed immediately by another workout, the Max Interval Circuit. This routine, claims Beachbody, is a grueling interval circuit that's "more intense than anything you've ever done before." The next DVD, the Max Interval Plyo, focuses on the legs and lower body, combining power exercises and plyometrics to work your legs " 'til they beg for mercy."
Max Cardio Conditioning and Cardio Abs; Max Recovery
The penultimate routine is Max Cardio Conditioning and Abs, which Beachbody claims is the most intense of the routines. The Max Cardio routine begins with an 11-minute warm-up and five minutes of stretching before launching into the routine, which features 21 different exercises done for a full minute each. The program finishes with Max Recovery, designed to allow you to rest up by doing a less intense routine that combines a lot of stretching.