According to the Centers for Disease Control and Prevention (CDC), the only way to lose weight is to create a caloric deficit, expending more energy than you take in through food. You can create a caloric deficit through diet alone, but physical activity is necessary to keep the weight off over time. Combined with other exercises such as light strength training and a healthy diet that is low in fat, running is an excellent activity to help lose and keep fat off. Before starting any new exercise routine, discuss your planned activity with your doctor.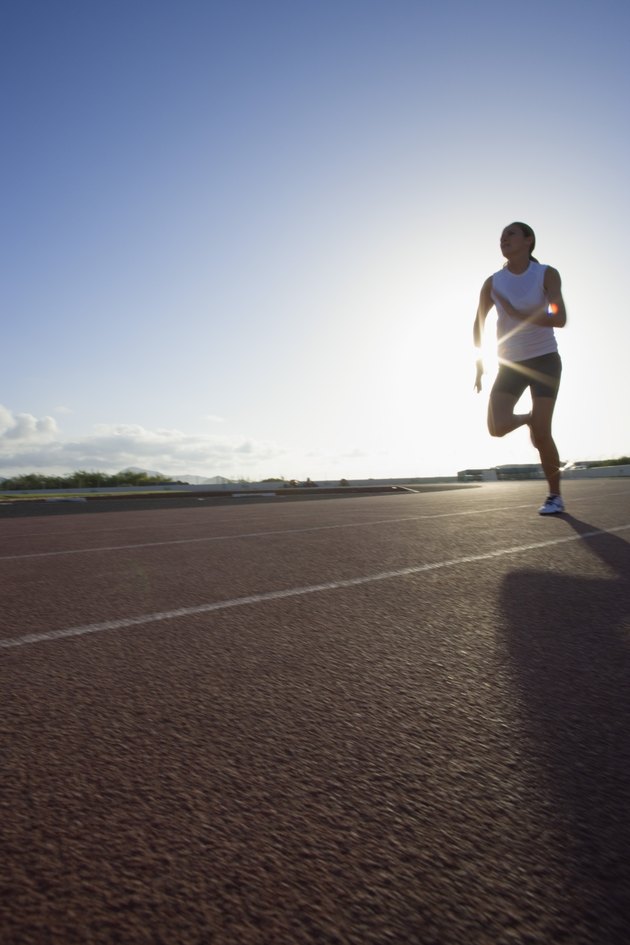 Time and Intensity
The CDC recommends approximately 150 minutes of moderate intensity exercise or 75 minutes of vigorous activity per week to maintain your current weight, but if your goal is to lose weight, you'll need to do a bit more. Running is considered vigorous exercise, and a person that weighs 154 pounds can burn approximately 590 calories in one hour at a pace of 5 miles per hour. In order to lose 1 pound, you need to create a caloric deficit of 3,500 calories according to the Mayo Clinic, and the faster your pace, the more calories you will burn in a given time.
Mix It Up
When you first start running, you may want to stick to a regular routine to develop good habits and get used to the exercise. However, as you progress, adding different types of running-related activities can help keep your workout from getting stagnant while also increasing the intensity of your exercise. Adding sprints -- running a set distance and then walking the same distance to catch your breath -- can help build up your endurance and burn fat. Running up and down stairs or hills will also increase your endurance and burn more calories than running the same distance on a flat surface.
Interval Training
Interval training -- running a certain distance, then slowing your pace down to a jog or walk -- can help burn calories due to increased intensity, while helping to keep your workout interesting. Interval training doesn't have to involve sprints, as you can run at any pace you desire, and is also beneficial for many new runners who don't have the endurance for longer runs. Another type of interval training is fartleks, in which you would choose a landmark and run to it at your maximum pace for that distance, then jog or walk to a second landmark. Fartleks can be beneficial for some runners because they put a physical goal in front of you, making it easier for some to push slightly past their normal distance.
Rest
If you aren't a professional athlete with a daily training regimen, you need to take breaks between runs in order to allow your muscles to heal. While you may need more breaks when you start running due to muscle soreness and fatigue, a day between runs is probably enough as long as you aren't in pain. If you still want to exercise on off days, add exercises to your routine that don't work the same muscle groups, such as upper body strength training.