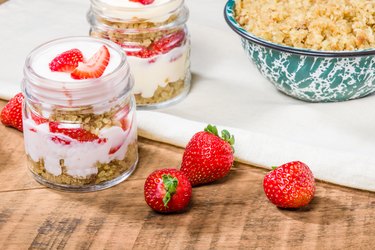 Imagine waking up, gazing sleepily into your fridge and realizing you prepared yourself a nutritious breakfast the night before. This may feel like a far-off dream, but it can become a reality thanks to this delicious no-cook overnight strawberries and cream oatmeal recipe.
Thanks to the addition of Greek yogurt and sliced almonds, these overnight oats have 20 grams of protein per serving. According to a 2006 study published in The American Journal of Clinical Nutrition, eating a high-protein breakfast helps decrease hunger-stimulating hormones, which will ultimately help keep your appetite in check.
What You'll Need
1/2 cup rolled oats
1/3 cup Greek yogurt
1/3 cup almond milk
Fresh strawberries, sliced
Directions: The night before, combine all of the above ingredients in a sealable jar and stir them together. Put the lid on the jar and place it in the fridge overnight. In the morning, add:
2 tablespoons Greek yogurt
More fresh strawberries, sliced
1 tablespoon sliced almonds
You can eat right then and there or put the lid back on and take it with your for a healthy breakfast on the go!
Make It Your Own
The addition of juicy, ripe strawberries means you'll get a healthy dose of antioxidants, fiber, folate and potassium. And if you'd like to mix other healthy ingredients into your oatmeal, be our guest. Some ideas include: shredded unsweetened coconut, pumpkin seeds, cinnamon, almond butter, blueberries, blackberries and mango.
We're sure you can manage the recipe above — we believe in you, plus all it really takes is stirring together ingredients and chilling. But if you're feeling extra lazy, check out the store-bought instant oatmeal options that we love.