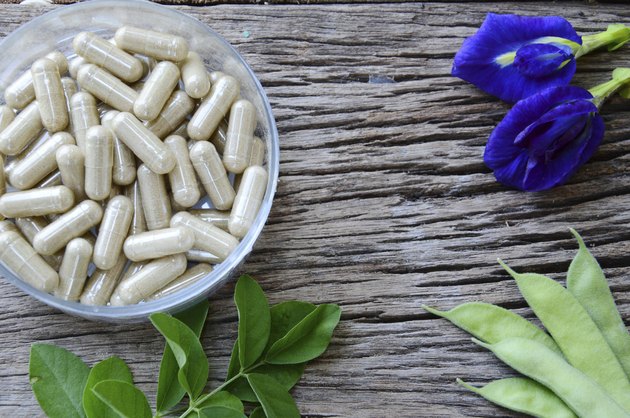 The movement of material through the digestive system culminates in the expulsion of waste from the colon. People turn to colon cleansers to rid their bodies of excess waste that they believe has accumulated over time. There are a number of colon cleansing pills on the market, most promoting weight loss as a benefit of colon cleansing. Among these are Bowtrol and Detox Plus Colon Cleansers.
Common Colon Cleansing Ingredients
Many of the colon cleansing products on the market have herbal extracts or other natural components as the active ingredients. Commonly seen are products containing psyllium husk, bentonite clay, flaxseed, wormseed, black seed, turkey rhubarb and casara sagrada. Some of these substances, such as casara sagrada and bentonite clay, are natural laxatives, while others, such as flaxseed amd psyllium husk, fall into the fiber category.
Fiber and Laxatives For Weight Loss
Staff at the Mayo Clinic state that increased fiber intake promotes weight loss. Colon cleansers that include fiber will capitalize on this possibility. Adding laxatives to their ingredients will cause the bowels to empty. The loss of body fluids and fecal matter will result in some initial weight loss, but this may be transient, according to the writers of dietspotlight.com, in their review of senna, an FDA approved laxative.
Bowtrol Colon Cleanser
The Bowtrol website claims that this is an all-natural product that will maximize your elimination, increase your energy and help you to lose weight. It contains bentonite clay, clove powder, casara sagrada bark, peppermint, Chinese rhubarb root, aloes, olive leaf, garlic extract, thyme oil powder, slippery elm, senna, black cummin seeds and wormwood, and comes in 60 capsule packages. The presence of casara sagrada and bentonite clay coupled with senna may give this product a strong laxative effect, which may cause some initial weight loss.
Detox Plus Colon Cleanser
Evolution Slimming, the producer of Detox Plus, claims this product will cause you to shed pounds of waste and help you to diet more effectively. Available in 90-capsule bottles, this product contains guar gum, apple pectin, oat bran, senna, aloe vera and rhubarb root, and it will speed up your weight loss, the manufacturers say. This is a 30-day program. The first 15 days require four capsules, two in the morning and two at night. The next 15 days you take two capsules before bed.
Considerations
Since increasing your fiber intake will lead to weight loss, you may be able to achieve your weight loss goal by adopting a fiber-rich diet without resorting to colon cleansing. Prolonged use of laxatives such as those found in most colon cleansers can lead to your bowels being compromised and unable to function without the stimulus of a laxative.