Milk is a major source of many nutrients that support bone health. Although kids are encouraged to drink their milk, adults often pass up milk and consume soda, tea, coffee or juice instead. Adults need milk to reduce their risk of losing bone mass.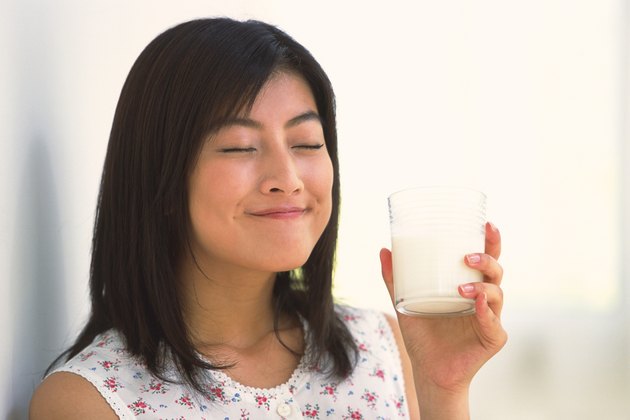 Expert Recommendation
For everyone 9 and older, the U.S. Department of Agriculture recommends at least three cups of milk or milk equivalent per day. Choosing skim or low-fat dairy for these servings helps prevent you from consuming too many calories or saturated fat. An 8-oz. glass of whole milk contains 146 calories and 8 g of fat, 5 g of which is saturated. An equivalent serving of 1 percent milk has 102 calories with 2 g of saturated fat, while skim milk has 83 calories and no fat.
Benefits
The National Institutes of Health advises most adults to consume between 1,000 and 1,200 mg of calcium daily. One 8-oz. glass of milk provides 285 mg of calcium. The body uses calcium to strengthen bones and teeth. Consuming enough calcium may help you offset bone loss that often occurs with aging. Most milk is also fortified with vitamin D, which helps your body absorb calcium. A cup of milk also provides more than 20 percent of your daily needs for phosphorus, which also helps with calcium absorption and bone health.
Sources
While three cups of milk may seem like a lot, it can easily fit into your diet. Add milk to soups, cereal and casseroles. Drink milk instead of juice with breakfast or choose pudding made with low-fat milk for desert. Have a glass of milk with snacks or blend it with fresh fruit into smoothies.
Considerations
If you cannot drink milk because you are lactose intolerant or a vegan, seek out alternative sources of calcium, vitamin D and phosphorus to keep your bones healthy. Fortified cereals, soy milk, rice milk and juices contain some calcium and vitamin D. Drinking lactose-reduced milk or consuming a digestive enzyme may help those with lactose intolerance consume the recommended 3 cups of milk daily.