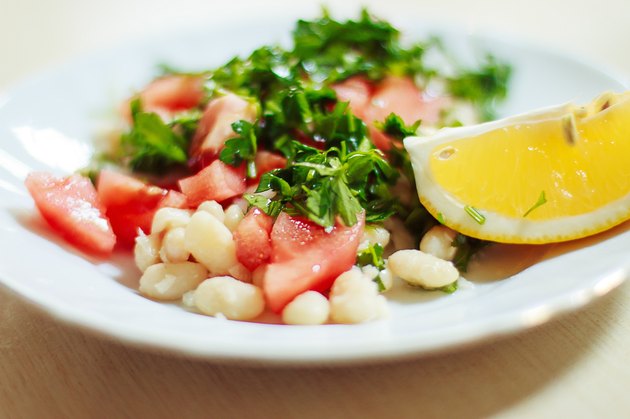 Whether you are ordering a salad out or creating a salad at home, one dressing you may enjoy is the classic balsamic vinaigrette. When you are following a low-calorie diet, though, this dressing may not be your best bet. A traditional vinegar and oil dressing contains approximately 200 calories per 2-tbsp. serving and it is not a low-fat dressing; 99 percent of its calories come from fat. When you make your own, however, you can modify the proportion of oil to vinegar to make this dressing healthier. You will also know exactly what ingredients your dressing contains.
Step 1
Measure out 4 tbsp. of the type of vinegar that you want to use and pour it into a carafe or jar. Plain white, apple cider and balsamic vinegar are three commonly used types. You may find rice vinegar, champagne vinegar and fruit vinegars in gourmet shops and health food stores.
Step 2
Add the olive oil to the carafe.
Step 3
Close the carafe's lid and shake the container to mix the oil and vinegar. Like oil and water, the vinegar and oil will separate soon after you mix them.
Step 4
Add the dressing to your salad or preferred dish.
Things You'll Need
4 tbsp. vinegar

Measuring spoon

1 cup olive oil

Measuring cup

Carafe or jar with a top
Tip
You can modify the flavor of your salad dressing by substituting herb-infused olive oil. Use the same proportion of the two ingredients or decrease the amount of oil to reduce the calorie content.
You can reduce the caloric content of this dressing by replacing some of the oil with water.
Expand a basic vinegar and oil dressing by adding dry mustard, Parmesan cheese, fresh herbs or spices to it.
When you store vinegar and oil dressing in the refrigerator, remove it a few minutes before serving. The majority of vegetable oils solidify or become cloudy in the refrigerator. However, if you use flaxseed oil, your vinegar and oil salad dressing will remain clear when you put it in the refrigerator.
Warning
Your storage container needs a secure top because you must remix the vinegar and oil dressing each time you need to use it.
Adding sugar to your vinegar and oil dressing may improve its flavor, but it also increases its caloric content. It is better to instead experiment with the amount and type of vinegar until you find the balance that fits your taste buds.