The supplement industry makes millions of dollars each year selling appetite-suppressing pills to people who want to lose weight. Instead of spending your hard-earned cash, though, you can get hunger-curbing help from foods and drinks you may already have at home. By combining these tips with a healthy diet and regular exercise, you'll be on your way to a slimmer you.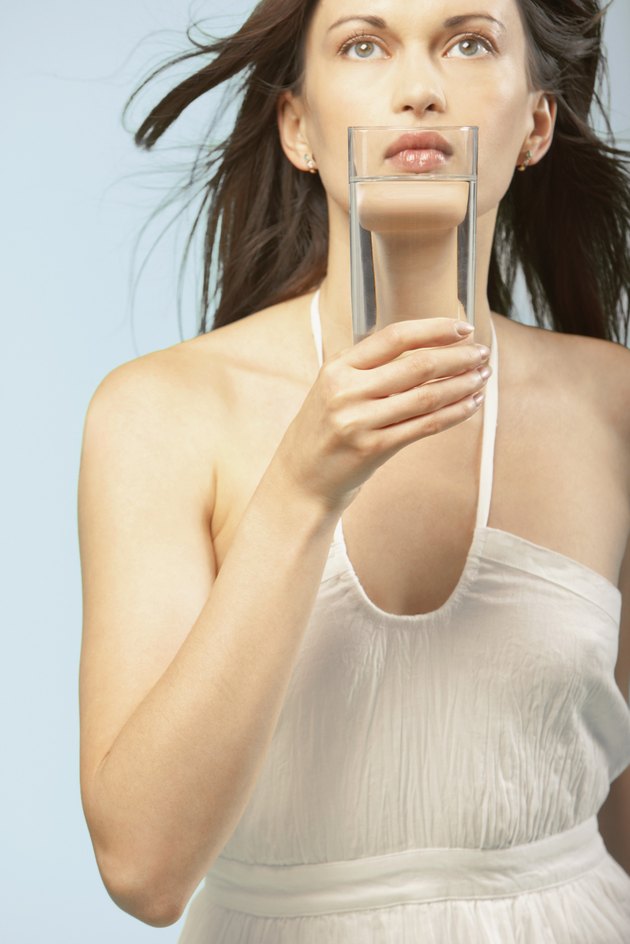 Water, Water Everywhere
There's no need to pay for expensive appetite suppressants -- just drink plenty of water. Thirst is often mistaken for hunger, so you may feel hungry and reach for a snack even though all you needed was a drink of water. Water is calorie-free and it helps fill up your stomach, which can help you feel fuller on no calories and may help you eat less when you drink it before a meal. Study findings presented at the 240th National Meeting of the American Chemical Society showed that dieters who drank 2 cups of water before each meal for 12 weeks consumed fewer total calories and lost more weight than dieters who didn't drink water before meals.
Spice Up Your Life
If you typically eat a bland diet, spicing up your foods with red pepper may be an effective, natural way to suppress your appetite. Researchers of a study published in "Physiology & Behavior" in March 2011 aren't clear on why red pepper has this effect, but they theorize that the capsaicin in pepper, the natural compound that gives it its kick, acts on sensory receptors to reduce markers of appetite, including preoccupation with food and the desire to eat fatty, sweet and salty foods. The researchers found that this effect was present at realistically consumable amounts of 1 gram per meal -- or a little more than 1/2 teaspoon. They also found that this effect was strongest in people who didn't typically eat spicy food, which suggests you can build up a tolerance over time.
Fill Up With Fiber
In a study published in "The American Journal of Clinical Nutrition" in October 2007, researchers found that cereal fiber, rich in a type of fiber called insoluble fiber, was effective at reducing appetite and calorie intake in young men. After an overnight fast, study participants were given either a high-fiber cereal containing 33 grams of insoluble fiber, a low-fiber cereal or a piece of low-fiber white bread, each of which had similar caloric and macronutrient contents, weight, and volume. Seventy-five minutes later, participants were given a meal. Researchers assessed appetite leading up to the meal and calorie intake at the meal and found that the high-fiber cereal reduced appetite and calorie intake more than the low-fiber cereal or white bread.
Putting It All Together
A bowl of high-fiber cereal sprinkled with red pepper isn't particularly appetizing, but there are ways to include these appetite-suppressing ingredients in your everyday diet to benefit from their potential effects. Drink plenty of water throughout the day to stay hydrated, and drink an extra glass or two before each meal. Add chili pepper to stews and soups, and start your morning with a bowl of low-sugar, high-fiber cereal. Top your cereal off with some skim milk, which can prevent midmorning hunger and help you eat less at lunch, according to a study published in "The American Journal of Clinical Nutrition" in May 2009.