Swimming, one of the safest forms of exercise, can keep everyone from toddlers to senior citizens fit. Swimming provides a cardiovascular workout and strengthens your entire body. It's kind to your joints and can help you control your weight. But foot cramps, a common problem for swimmers, can occur without warning.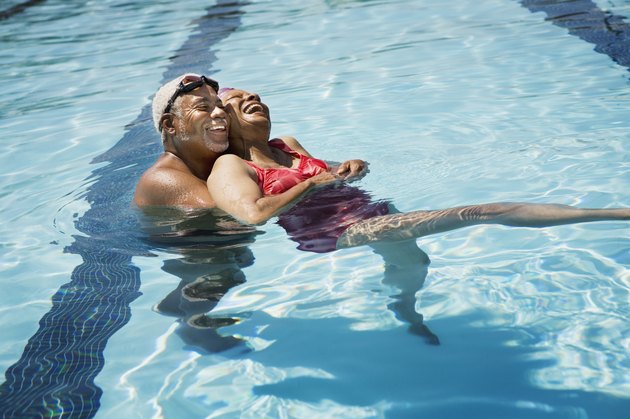 Causes of Cramps
Dehydration, poor body conditioning and tensing your foot muscles may cause cramps. The different swim strokes require you to flex or point your feet against the resistance of the water. These foot motions, while allowing you to gain speed in the water, can cause severe cramps. You may experience cramps when you push away from a swimming pool wall or when you use swim fins. Foot cramps, painful but not dangerous on land, may impede your ability to swim properly. An inadequate diet -- with too little calcium or potassium -- may also make you susceptible to foot cramps.
Preventing Foot Cramps
You can take steps to prevent foot cramps. Swimmers should stretch their muscles before getting into the water. You should also let your body adjust to the temperature of the water before swimming. Your muscles tense in cold water but will relax as your body regulates its temperature to accommodate the climate change. You should also keep yourself hydrated and get enough calcium. Eating a banana a few minutes before swimming is also a good idea, as the fruit's potassium may prevent foot cramps.
Relieving Foot Cramps
In case a cramp does occur during swimming, try to remain calm, since panic can make the situation much worse. Adopt a "survival float," coming up for air and going back under to massage your foot. Other suggestions include flexing your toes toward your chin and pinching the area above your upper lip to relieve your foot cramp. Pinching or biting your upper lip may help for two reasons: the region is an acupressure point for leg and foot pain. Creating pain in your lip may also distract you long enough for your foot muscles to relax and the cramp to ease. You can also try rotating your ankle and leg to relieve your cramp.
Cramp Considerations
Even though you probably don't notice, you sweat when swimming. So you can easily become dehydrated if you don't drink fluids before a swim. You may benefit from drinking a beverage that contains electrolytes. Drinking low fat milk will help hydrate you and give you extra calcium. The more frequently you swim, the less likely you are to suffer from foot cramps. But even seasoned athletes experience foot cramps if they push themselves too hard without proper warm-up and conditioning.