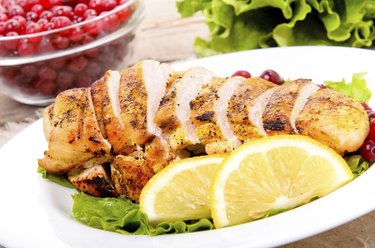 If the weather isn't cooperating, you can still grill a tasty chicken entree on your kitchen's stove top. You'll need a grill pan, which is a shallow stove top pan that has ridges to recreate the surface of a hot grill. You can find grill pans made from nonstick cookware or cast iron. Boneless, skinless chicken breasts cook up especially quickly and easily in a stove top grill pan.
Step 1
Place the grill pan on the stove and turn the heat to medium-high.
Step 2
Brush the grill pan with olive oil using a pastry brush.
Step 3
Sprinkle boneless, skinless chicken breasts with salt and pepper and place the chicken in the pan.
Step 4
Cook the chicken breasts without moving them or about five minutes, until the undersides develop golden brown grill marks. Flip the chicken breasts using a pair of tongs and cook on the second sides for another five minutes.
Step 5
Use an internal meat thermometer to check the chicken for doneness. Remove the chicken from the grill pan when the internal temperature reaches 165 degrees Fahrenheit.
Step 6
Place the cooked chicken on a clean plate and serve with your favorite sauce or salsa. Or slice the chicken and serve over your favorite salad.
Things You'll Need
Olive oil

Pastry brush

Salt

Pepper

Tongs

Internal meat thermometer

Plate

Sauce, salsa or salad for serving (optional)
Tip
For added flavor, marinate the chicken before cooking by placing it in a plastic zip-top bag along with your favorite marinade in the refrigerator overnight.