When you've made sure to buy all the basics for cookies -- flour, eggs, butter -- it's easy to forget that your bottle of vanilla in the pantry is empty. Honey will make the cookies sweeter and will give them a subtle honey taste, but won't impart any vanilla flavor. You can use a few other ingredients to try to add flavor to your cookies in place of vanilla.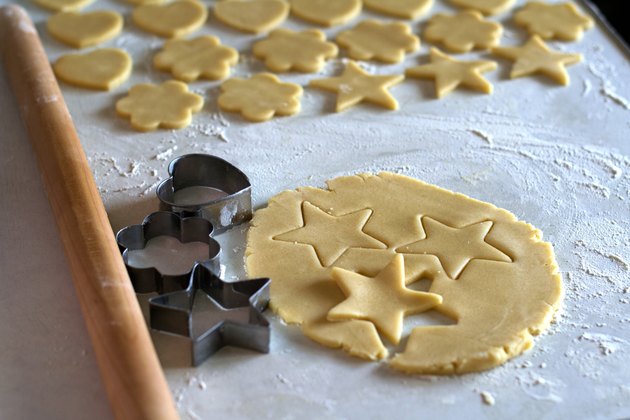 Vanilla Extract Basics
To many people, vanilla might be almost synonymous with sweet. It usually shows up in desserts like ice cream, frostings, cakes and cookies. But while vanilla goes well with sweet flavors, it's not a sweetener. The vanilla bean on its own has a complex flavor -- slightly floral and a little bitter. Vanilla extract is made by soaking the vanilla bean in alcohol. When you use vanilla extract in a recipe, it adds its distinctive flavor, not sweetness.
Substituting Honey for Vanilla
You can add honey if you would like to add honey flavor to your cookies, but it will not mimic vanilla. If you do add honey, reduce the amount of sugar you use so your cookies won't be overly sweet.
Vanilla Bean vs. Extract
If you have a vanilla bean, you can use it as a substitute for extract in a cookie recipe. You can scoop out the seeds of the vanilla bean and add them to melted butter or any other liquid ingredient. Or, you can whisk the beans into the sugar. If you have the time, you can also stick a few split-open beans into a jar of sugar and let sit overnight to create vanilla sugar. Use the vanilla sugar as you would use regular sugar.
Other Vanilla Substitutes
If you want to add another layer of complex flavor to your cookies, maple syrup can be a smart choice to add this extra something. You can also experiment with almond or other extracts, or spices like ginger, cinnamon and nutmeg to give your cookies some flavor.