Chinese herbs are a natural, holistic approach to reducing elevated cholesterol levels. Some Chinese herbs help reduce total cholesterol, LDLs and triglycerides--considered "bad" cholesterol--and raise HDLs, or "good" cholesterol. In addition to lowering cholesterol, Chinese herbs can improve the elasticity of the arteries and maintain healthy blood circulation. Chinese herbs produce little to no side effects compared to Western medications that lower cholesterol. Consult with your doctor and a certified Chinese herbalist prior to taking any Chinese herb or remedy for high cholesterol.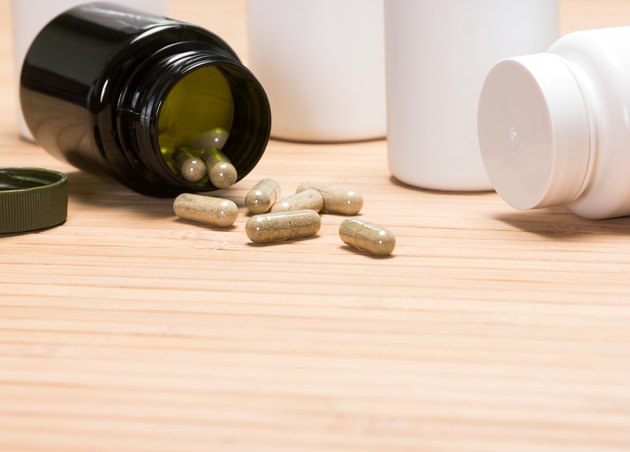 Hong Qu
Hong qu is also known as red yeast rice. It is a popular supplement that helps lower cholesterol. Hong qu contains lovastatin, which gives it similar effects as statin drugs that doctors prescribe to lower cholesterol. Red yeast rice inhibits cholesterol synthesis in your body, which lowers total cholesterol, LDLs, VLDLs and triglycerides. According to John Chen, Ph.D., it may also slightly increase HDLs, or good cholesterol.
Jiao Gu Lan
Jiao gu lan, or gynostemma, lowers blood pressure and cholesterol levels. It treats hardening of the arteries, hypertension and hyperlipidemia. Jiao gu lan also inhibits platelet aggregation and blood clot formation and has an anticancer effect and antiaging effect. Jiao gu lan may produce mild side effects such as fatigue, dizziness, chest congestion, mild fever and drowsiness.
Shan Zha
Shan zha, or hawthorn fruit, treats hypertension, coronary artery disorders, angina and high cholesterol. It improves blood circulation and promotes the digestion of red meat and greasy, fatty foods. Shan zha benefits the heart and has a vasodilating effect. Since this herb increases gastric acid secretion, it is not suitable if you have stomach ulcers. Hawthorn has similar effects as the Western medication digoxin. Your doctor and Chinese herbalist should closely monitor you if you take hawthorn and digoxin together.
Jue Ming Zi
Jue ming zi, also known as cassia seed, reduces high cholesterol and atherosclerosis. It has a diuretic effect and lowers blood pressure. According to Chen, studies show that 98 percent of subjects with high cholesterol were within normal range after six weeks of treatment with jue ming zi. Since jue ming zi has a diuretic effect, taking it with diuretic medications may cause excessive water loss and electrolyte imbalance.
Ze Xie
Ze xie is also known as alisma or Oriental water plantain rhizome. It has a diuretic effect, regulating water circulation and reducing edema. It lowers cholesterol, reduces arteriosclerosis and treats fatty liver. Ze xie may also help lower blood pressure and reduce dizziness and vertigo. Since this herb has diuretic effects, avoid taking it with other diuretic medications.