The health industry has seen a CBD revolution — everything from makeup to sparkling water now includes the buzzy ingredient. But what exactly is CBD, is it legal and what value is it really adding to foods, drinks and lotions? Below, everything you need to know about this mystery ingredient — and a few CBD products worth trying.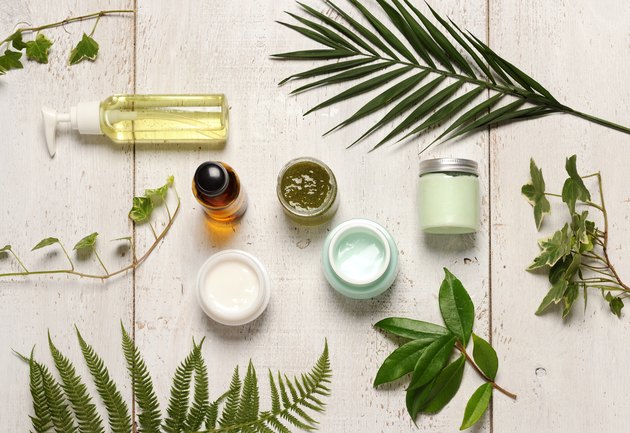 What Is CBD?
According to Harvard Health Publishing, "CBD stands for cannabidiol and is the second most prevalent of the active ingredients of cannabis (marijuana)." But it shouldn't be confused with the primary psychoactive compound in cannabis called tetrahydrocannabinol or THC, which is what gives users a high when they smoke or consume marijuana.
So while CBD may be a large and essential component of marijuana, it won't, by itself, cause a high and is entirely non-psychoactive.
Is CBD Legal?
The 2018 Farm Bill recently brought CBD to the forefront of legalization and also explains the sudden onset of CBD products on the market. While the bill, according to the National Law Review, "does not remove all barriers to the production and sale of CBD products made from hemp," it did allow companies to produce and market CBD-based products legally.
And according to a statement made by the Food and Drug Administration (FDA), they can't make health claims and can only contain trace amounts (less than 0.3 percent by weight) of THC.
What Are the Benefits of CBD?
Research into the potential benefits of CBD is still preliminary. For now, studies suggest it can help people who have epilepsy, according to a report published by the World Health Organization. In fact, in June 2018, the FDA approved a marijuana-derived drug for the first time, Epidiolex, for the treatment of epilepsy.
Research from a 2015 issue of the journal Neurotherapeutics suggests CBD may be effective at reducing anxiety and treating insomnia and other sleep disorders. And a 2016 study published in the European Journal of Pain showed that in animals, CBD helped to reduce pain and inflammation without any side effects, although more research in humans is needed.
Before you give CBD a try, though, Mathew Gerson, co-founder and CEO of Foria, a cannabis and hemp brand, cautions that CBD's reputation has spawned a flood of copycat products, including many with little or no actual CBD in them.
"Some products use a synthetic 'CBD isolate' that lacks the natural co-factors found in hemp and cannabis. Other sources sell 'natural CBD' from questionable-quality hemp grown in Eastern Europe or China," he says. Gerson stresses that consumers should know where their CBD comes from, what form it's in and how it might interact with any medications they may already be taking.
If you're curious about experimenting with CBD, follow those guidelines and it probably won't hurt. Whether you're looking for relief from sleep problems, minor pain, stress or some anxiety, these products — from body oil to gummies — could help.
1. Not Pot Gummies
Not only are these Not Pot Gummies vegan and kosher, the strawberry-flavored, polar bear-shaped treats contain 10 milligrams of organically grown, full-spectrum hemp extract. Each bottle contains 30 gummies (in super chic packaging) and is an easy add-on to your morning routine.
Not Pot isn't just about alleviating anxiety or pain: The company is also working on easing the burden of an unfair justice system as well. They've committed to using the profits from sales to help fund The Bail Project, "a non-profit organization designed to combat mass incarceration by disrupting the money bail system through a revolving bail fund."
2. Lord Jones High CBD Formula Body Oil
If you are looking for pain relief, the newest product from Lord Jones may be the answer. Their High CBD Formula Body Oil has a roller ball applicator that helps you massage and target pain points as needed.
The vegan oil is made from organic avocado, jojoba and safflower oils along with 100 milligrams of CBD and is smooth and absorbent. The fragrance is light — think evergreen and citrus — and fades quickly for those sensitive to smells. Keep this in your gym bag to target those post-workout sore spots, especially along the neck and shoulders.
3. Foria Wellness Basics
If you're curious about CBD and also going keto, try Foria's Basics Tonic. This formula includes 100 percent organic MCT oil — a medium-chain triglyceride fat — helpful for those on the low-carb, high-fat diet.
Gerson recommends taking your preferred dose of Foria orally and swishing it around your tongue, cheeks and gums for increased absorption before swallowing. Alternately, you can add the tonic to a daily beverage like tea or a smoothie.
4. CBD + Nature Nourishing Pain Relief Cream
This topical cream, made with organic hemp oil and hemp root, offers pain relief but also nourishes the skin with the addition of grapeseed oil. This light, non-greasy cream is ideal for spot treatment of pain, and you can feel it working as soon as you rub it in.
Keep this pot of lotion on your bedside table for some moisturizing and pain relief action for your hands or feet before you go to bed.
5. Recess Sparkling Drinks
Available in three tasty flavors — blackberry chai, pomegranate hibiscus, and peach ginger — these sparkling waters contain 10 milligrams of full-spectrum hemp oil, plus 200 milligrams of American ginseng, which may also help ease stress.
A can of Recess will only set you back 25 calories and six grams of sugar, making it an ideal mid-afternoon, tension-taming treat. If you can't decide which flavor is your favorite, order the sampler — two of each flavor come in the six-pack.