Sinus infections, referred to as sinusitis, are one of the most common reasons why people seek medical treatment. Symptoms include facial pressure and pain, congested and runny nose and sometimes fever. Sinusitis is typically due to either a virus associated with the common cold or a bacterial infection. Whether antibiotics are appropriate depends on the cause of your infection.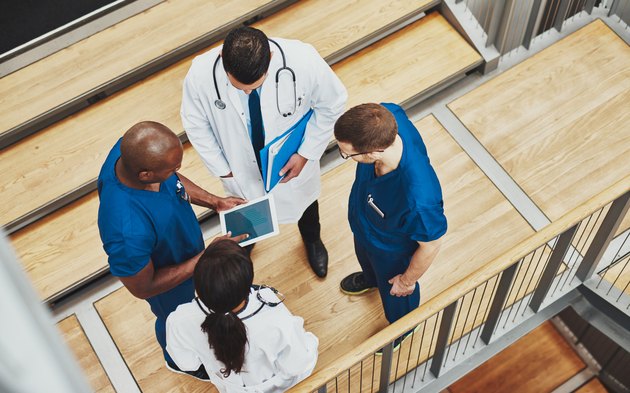 Do You Need Antibiotics?
Most acute cases of uncomplicated sinus infections are caused by respiratory viruses or the common cold and typically resolve in 7 to 10 days. Antibiotics are not used to treat viral infections because they are ineffective. Additionally, overuse of antibiotics can contribute to the emergence of antibiotic-resistant bacteria. Unfortunately there is no reliable way to determine whether your sinusitis is viral or bacterial. A pair of 2014 reviews published in the journal "Otolaryngology -- Head and Neck Surgery" found that neither the duration of symptoms nor the presence of nasal discharge, fever or facial pain was useful in distinguishing between a viral infection and a bacterial infection. Most cases of sinus infection, whether viral or bacterial, will resolve in about a week. Current treatment guidelines from the American Academy of Family Physicians recommend only using antibiotics if the symptoms have not improved after 10 days or have worsened after 5 to 7 days.
Antibiotics for Bacterial Infections
Sinus infections caused by bacteria may be treated with one of several different classes of antibiotics. One class is called beta-lactams, which includes penicillins and cephalosporins. The drug amoxicillin is a member of this class, and when combined with clavulanate, it's a recommended first-line drug for treating acute bacterial sinusitis. However, allergy is fairly common. Another class of antibiotics called macrolides is also commonly used, especially for people allergic to penicillins. This class includes erythromycin (E-mycin) and azithromycin (Zithromax). Fluoroquinolones such as ciprofloxacin (Cipro) and even sulfonamides like co-trimoxazole (Bactrim) or trimethoprim (Proloprim) are sometimes suggested as well. The type of antibiotic your doctor recommends depends on a number of factors, including your experience with specific antibiotics in the past.
Precautions
Most cases of sinusitis are caused by respiratory viruses -- which are not affected by antibiotics. Because unnecessary antibiotic use contributes to the emergence of antibiotic-resistant bacteria, doctors may be conservative in prescribing antibiotics for acute sinusitus in the absence of a period for observation, extenuating circumstances or signs of complications. Even when the sinusitis is bacterial, it will often run its course and resolve on its own. Antibiotics can also have side effects to consider. These may include allergic reactions, diarrhea, abdominal pain and nausea/vomiting. And as with any medication, more severe -- although rare -- drug reactions are possible.
When to Seek Medical Attention
Mild symptoms of sinusitis are often relieved by pain medications, decongestants, nasal sprays and medicines called mucolytics that are used to thin the mucus. However, these will not shorten the duration of the infection. If you have had sinusitis for more than 10 days, it is probably time to see your doctor. The presence of severe symptoms or warning symptoms also warrants medical attention. These include a persistently high fever (above 102°F), severe headache, swelling or redness around the eyes, mental confusion, double vision, stiff neck or symptoms that worsen after initially improving. Your doctor will also look for any signs of spread of the infection beyond the sinuses, referred to as "complicated bacterial sinusitis," which is a rare but serious condition.