Herbalists prize oil of oregano, extracted from the leaves of Origanum vulgare, for its medicinal properties, including the ability to inhibit the growth of bacteria, fungi and viruses. It differs from the oregano most often used as a culinary spice, which comes from a related plant called Origanum majoricum. However, like many drugs and herbal remedies, oil of oregano can have side effects and may produce allergic reactions in those sensitive to this family of plants.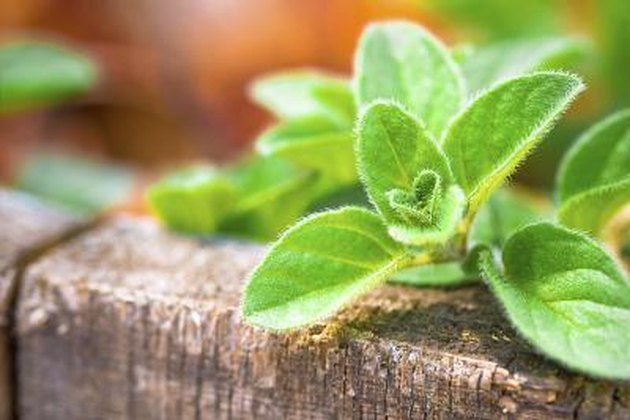 Allergic Reactions
Origanum vulgare, the source of oil of oregano, comes from the same plant family as basil, hyssop, marjoram, mint, sage and thyme. If you have experienced any adverse reactions to these plant materials in the past, avoid oil of oregano. Allergic reactions to oregano and any of its byproducts can manifest in a variety of ways, according to Charles W. Fetrow and Juan R. Avila, authors of "The Complete Guide to Herbal Medicines." Symptoms may include facial swelling, skin rash, itching, and/or difficulty breathing, swallowing or speaking. If any of these symptoms should appear after using oil of oregano, discontinue its use immediately and consult your doctor.
Even without a true allergy to oregano or its byproducts, people with sensitive skin may develop signs of irritation when oil of oregano is applied topically. This problem usually can be addressed by diluting the oil of oregano with olive oil or some other essential oil that is soothing and less irritating to the skin.
Inhibits Iron Absorption
If you suffer from any form of iron deficiency, including iron-deficiency anemia, it's important to know that oil of oregano can inhibit the body's absorption of this important mineral. For this reason, Liliana Stadler Mitrea, a naturopathic doctor and author of "Natural Medicine Mosaic," recommends that oil of oregano be used at least two hours before or after taking iron supplements. Because of the importance of iron during pregnancy, some doctors advise pregnant women to avoid oregano and its byproducts altogether during this critical period.
Possible Interactions
CAMline, an online database of information about complementary and alternative medicine, warns that oil of oregano may potentiate or amplify, the effects of certain medications. CAMline cites reports that oil of oregano has anticoagulant properties, suggesting at least in theory that its use in combination with anticoagulant medication could increase the effects of that medication, perhaps beyond desirable levels. Similar reactions have been observed when oregano derivatives are used with anti-diabetic medications and supplementary sources of hormones, such as birth control pills or hormone replacement therapy. CAMline emphasizes that more extensive studies will be needed to fully document the dangers, if any, of such interactions.