There is a plethora of differing and often contradicting opinions about the effects of cannabis, or marijuana; some claim that it has medicinal properties, and some hold that it has only negative effects. Long-term marijuana use, however, has been associated with changes in the body resulting in lowered muscle growth and mass.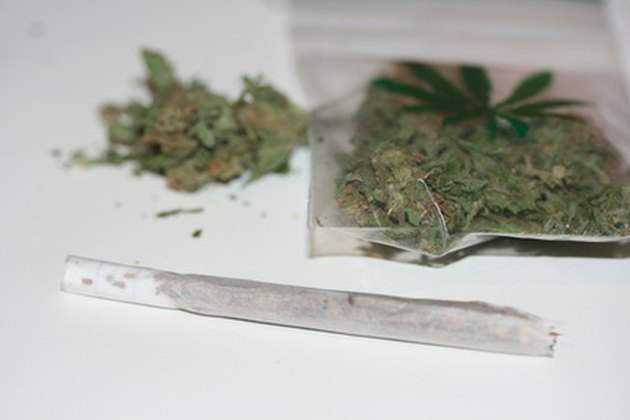 Less Overload
The principle of overload in exercise is an essential part of all improvements in the muscular and cardiovascular systems. Pushing your muscles to the point of failure is what causes hypertrophy and the resulting strength improvements. Marijuana is a mild hallucinogen and has some of alcohol's depressant and dis-inhibiting properties, so it may cause you to be less interested in pushing yourself to maximum capacity.
Lowered Testosterone
Testosterone is critical to muscle growth. Many athletes take anabolic steroids, such as testosterone, in order to increase muscle mass. According to the American Academy of Family Physicians, AAFP, long-term marijuana use reduces testosterone levels in men. The result of lowered testosterone is lowered muscle mass. Low testosterone will also leave you feeling more tired than normal, and this will likely translate into less exercise or less effort during exercise.
Poor Nutrition
Marijuana increases chemical in the brain which affect hunger, and causes marijuana users to particularly crave sweets. According to the National Cannabis Prevention and Information Centre of Australia, a series of human studies confirm the anecdotal reports that the marijuana high causes "the munchies," a slang term for being hungry for high-calorie foods that are low in nutritional value. The body converts these extra calories into fat stores, which has a negative impact on muscle growth.