Having a cold or respiratory infection is no fun, especially when cough, chest congestion and other uncomfortable symptoms persist. Over-the-counter (OTC) cold and flu medications may help manage your discomfort, but these drugs may not consistently help and can cause side effects, including drowsiness, nervousness and nausea. As a result, many people choose home remedies instead.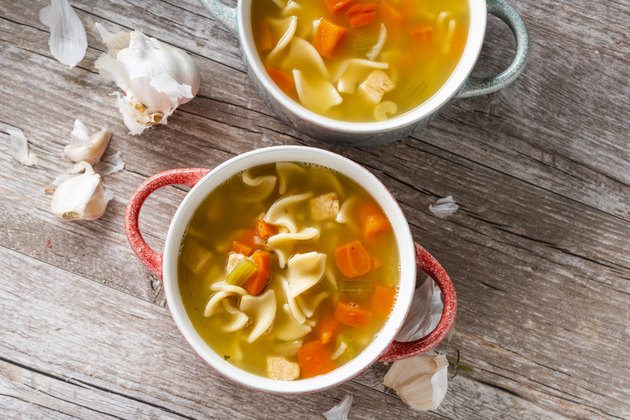 Add Fluids and Steam
One of the simplest self-care strategies for congestion and cough is to improve hydration and add moisture to the air you breathe. Drink enough fluids so that your urine is pale in color. These extra fluids help thin the mucus in your airways, and make it easier to cough the excess out of your lungs. Also increase the moisture in the air to help loosen the mucus in your respiratory tract. Take a hot shower or bath, and spend time deeply breathing in the steam. If your indoor air is dry, use a humidifier to help ease symptoms.
Try Chicken Soup
Chicken soup has a long-standing reputation as a cold and flu remedy. In fact, in his 12th century writings, Moshe ben Maimon, an Egyptian Jewish physician and philosopher, prescribed chicken soup for respiratory tract symptoms. And there may be more than folklore behind this widely-held belief. A frequently-cited study published in the October, 2000 issue of "Chest" suggests that chicken soup helps cough and cold symptoms because it has a mild anti-inflammatory effect. It's unclear which ingredients are responsible for the benefits, or if it helps mostly because it's a hot, steamy fluid. Nonetheless, having some warm soup may make you feel better while your body recovers.
Add Some Honey
Honey not only tastes better than most OTC cough medicines, but it may work better. In fact, a study completed on children with respiratory infections showed a bedtime dose of honey reduced cough severity and frequency and improved sleep. Honey may help because of its demulcent properties, which means it forms a protective film over mucous membranes, and because of its known antibacterial properties. This home remedy can be taken by the spoonful, or mixed with herbal tea or warm water. Although honey is a widely recommended home remedy for cough, it should not be given to children under the age of 1 due to the risk of infant botulism.
Apply VapoRub
The application of Vicks VapoRub to the chest or outside the nasal passages is another old family remedy that is validated by research. A mixture of petroleum jelly infused with aromatic oils such as camphor, menthol or eucalyptus, vapor rubs have been shown to ease cough and chest congestion, improve sleep, and to have a calming effect in children with upper respiratory infections. Aromatic ointments can irritate the skin, so care should be taken to test a small area first to ensure there is no irritation, and to avoid applying near the eyes.
Other Home Remedies
As the body recovers, it's important to get plenty of rest and to avoid secondhand smoke or polluted air. Ease nighttime coughing and congestion by propping your head up with extra pillows while you sleep. If home remedies don't adequately improve your symptoms, consider OTC guaifenesin, an expectorant which helps thin and loosen mucus, or a decongestant which may provide modest benefits to adults and older children. However, due to the risk of side effects, seek a doctor's advice about OTC cold and cough treatments in children or for anyone under a doctor's care for another medical condition.
Warnings and Precautions
If you experience a cough along with shortness of breath, difficulty swallowing or fever, contact your healthcare provider. If you are pregnant or caring for a young child who has cough and congestion, contact a doctor to get advice on proper care. See your doctor for any cough that lasts for more than a few weeks, or sooner if your symptoms are severe, or if you are coughing up blood or persistent and thick, yellow-green phlegm.
Reviewed by Kay Peck, MPH RD
Is This an Emergency?
If you are experiencing serious medical symptoms, seek emergency treatment immediately.