Ashwagandha and ginseng are commonly used to help treat fatigue and stress, as well as other health problems. American and Panax, or Asian, ginseng, as well as ashwagandha, pose certain side effects that range from mild and temporary to potentially dangerous. You should consult with your doctor before taking any of these herbal remedies to discuss these potential side effects, as well as possible drug interactions and proper dosage.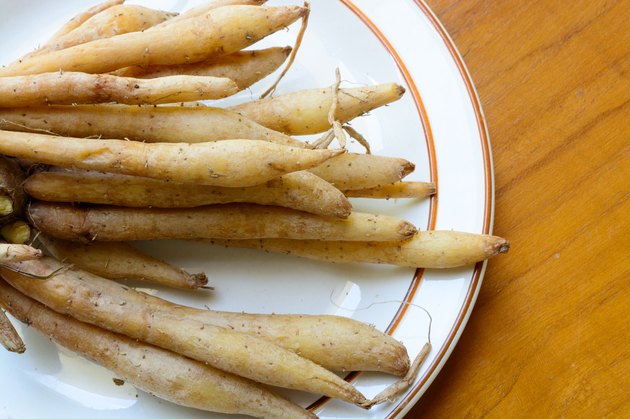 Miscarriage & Birth Defects
If you're pregnant, taking ashwagandha or ginseng may be unsafe. Ashwagandha could potentially induce spontaneous abortion of the fetus, according to the Memorial Sloan-Kettering Cancer Center. An animal study published in the journal "Human Reproduction" in 2003 indicated that taking Panax ginseng during pregnancy could cause birth defects, says the University of Pittsburgh Medical Center. If you're pregnant or breastfeeding, you shouldn't take Panax ginseng or ashwagandha. Talk to your doctor before taking American ginseng during pregnancy as well.
Increased Thyroid Hormone Levels
If you have thyroid problems like hyperthyroidism, taking ashwagandha may worsen your condition. Animal studies published in the Journal of Pharmaceuticals & Pharmacology in 1998 found that ashwagandha increased thyroid hormone levels in mice, according to the University of Pittsburgh Medical Center. Also, a 2005 case report in the Netherlands involved a woman who developed thyrotoxicosis after taking ashwagandha, notes the Memorial Sloan-Kettering Cancer Center.
Cardiovascular Effects
Ginseng could have potentially harmful side effects on your heart and blood vessels. Unconfirmed case reports found increases in blood pressure and heart rate after taking high doses of Panax ginseng, according to the University of Pittsburgh Medical Center. Another case report published in the "American Journal of Health-System Pharmacy" in 1997 found that taking Panax ginseng can reduce the efficacy of the anticoagulant drug Coumadin, a blood thinner. Rarely, taking Panax ginseng has led to blood vessel inflammation in the brain, posing the risk of stroke but more commonly headaches, Drug Digest says. If you have cardiovascular problems or take blood thinners like Coumadin, you should use Panax ginseng only under the close supervision of a health care professional.
Effects on Blood Glucose Levels
Taking American or Panax ginseng could reduce your blood sugar levels. You might develop hypoglycemia if your blood glucose levels drop too low, especially if you take too much ginseng, Drug Digest warns. You're especially at risk of this side effect if you're taking insulin or other medications for diabetes. Your doctor may need to reduce your diabetes medication dosage while you're taking ginseng. If you have diabetes, you should take American or Panax ginseng only after first consulting with your physician.
Restlessness & Mania
You could experience insomnia, restlessness, irritability or nervousness while taking American or Panax ginseng. Ginseng seems to cause these side effects only temporarily, Drug Digest says. You might also experience dizziness, loss of appetite and mood changes while taking Panax ginseng. Two case reports published in the "Journal of Clinical Psychopharmacology" in 1987 and the "Acta Psychiatrica Scandinavica" in 2002 involved people who experienced manic episodes while taking Panax ginseng, according to the University of Pittsburgh Medical Center. The cases of mania occurred when the patients took Panax ginseng along with antidepressant medications.
Breast-Cancer Cell Growth
If you have or are at risk of having breast cancer, taking ginseng could pose certain dangerous side effects. In a laboratory study published in the journal "Menopause" in 2002, Panax ginseng stimulated breast-cancer cell growth, according to the University of Pittsburgh Medical Center. This may be due to Panax ginseng's estrogen-like effects. These same actions of Panax ginseng have also resulted in some case reports of side effects in women like menstruation problems, vaginal bleeding in postmenopausal women and breast pain or tenderness, the University of Pittsburgh says. Because American ginseng might also have estrogen-like effects, it may worsen breast cancer, endometriosis, prostate cancer and other conditions that depend on female sex hormones, Drug Digest notes.