Upper respiratory infections like bronchitis and pneumonia often produce a cough, which is the body's attempt to clear the airways of mucus. Commercial cough expectorants thin mucus secretions and help remove them from the lungs, but they can have unpleasant side effects. Herbal teas or tinctures are natural home remedies for coughs. They may work by stimulating a cough reflex, thinning the mucus, or by relaxing cough spasms and loosening phlegm. Whether the cough is dry and hacking, with little mucus, or wet, expectorant herbs can help relax spasms and expel mucus, making it easier to breathe. It is important to consult a health care professional before starting any herbal therapy.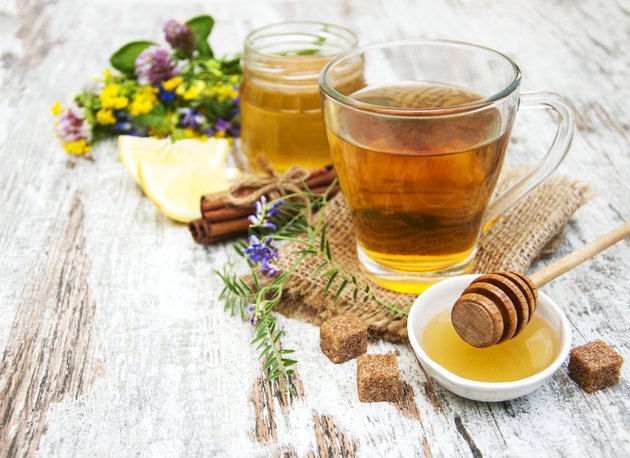 Great Mullein
Great mullein, or Verbascum thapsus, is a biennial herb with tiny yellow flowers arranged along a long spike or stem. Native to Europe, Africa and Asia, great mullein is a traditional remedy for the lungs and infections affecting the mucus membranes of the respiratory tract. In his 2003 book, "Medical Herbalism: The Science and Practice of Herbal Medicine," herbalist David Hoffmann calls great mullein a relaxing expectorant because it calms bronchial spasms and gently loosens and stimulates mucus flow. Penelope Ody, author of "The Holistic Herbal Directory," says that mullein is a good expectorant herb for dry, chronic coughs like asthma and bronchitis. The active ingredients are saponins, which have expectorant action; mucilage, a thick, slimy substance that soothes irritation; and glycosides, which reduce inflammation in the trachea and throat. Studies are needed to confirm the traditional use of great mullein as an expectorant.
Ribwort Plantain
Ribwort plantain, or Plantago lanceolata, is a perennial herb native to Europe and Asia. European herbalists use it to treat upper respiratory infections with phlegm and cough. Plantain is a gentle expectorant that soothes mouth and throat irritation as it helps expel mucus. The active ingredients are iridoid glycosides, mucilage, phenols and tannins. The plant also has antibacterial and anti-inflammatory actions. In their 2009 book, "Medicinal Plants of the World," Ben-Erik van Wyk and Michael Wink say that ribwort plantain is an expectorant herb for mucus membrane inflammations, and that the iridoid glycosides in the leaves, aucubin, catalpol and asperuloside, block pro-inflammatory cytokines and open the bronchial tubes for easier breathing. Studies on the expectorant effects of ribwort plantain are needed to confirm traditional use and to test its efficacy on humans.
Inula
Inula species, including British yellowhead, or I. britannica, and elecampane, or I. helenium, are tall perennial herbs with bright yellow daisy-like flowers. The roots and rhizomes, or underground stems, are used traditionally to treat coughs and inflammation in the mucus membranes of the respiratory tract. Herbalist David Hoffmann calls elecampane a stimulant expectorant, and says that the mucilage relaxes bronchial spasms while the essential oils stimulate expectoration. Van Wyk and Wink attribute the expectorant action in elecampane to isoalantolactone and alantolactone, also know as alant camphor, which are constituents in the essential oil. Penelope Ody says that traditional Chinese medicine uses British yellowhead flowers to treat bronchitis and clear the lungs of stagnant phlegm. She states that Indian Ayurvedic practitioners also use Inula species as a lung tonic in treating asthma. Studies are needed to confirm the use of Inula as an expectorant in traditional medicines.
Is This an Emergency?
If you are experiencing serious medical symptoms, seek emergency treatment immediately.