According to MayoClinic.com, Ambien, or zolpidem, belongs to a group of medicines called central nervous system depressants. Depressants are medications that slow down the nervous system. Ambien, in particular, is used to treat insomnia, or trouble sleeping. If taken as directed, Ambien can help a patient fall asleep faster and stay asleep throughout the night. A patient taking this medication should understand the effects of long-term Ambien use.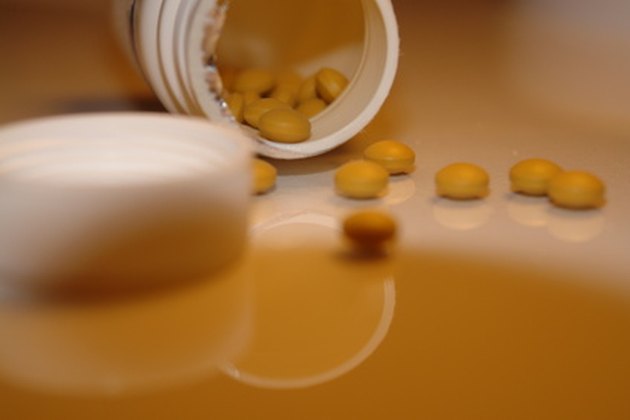 Decreased Effectiveness
MayoClinic.com states that Ambien should only be used for one or two days for insomnia. Furthermore, Ambien should not be used for more than one or two weeks or its effectiveness will significantly decrease. This occurs because the brain adapts to the chemicals in Ambien. As the brain adapts, higher doses of Ambien may be required to treat insomnia. A patient should avoid progressing to higher doses because this may increase the risk of side effects. Furthermore, taking higher doses may lead to an overdose, which may results in breathing problems, nausea, vomiting, staggering or unconsciousness. Emergency medical treatment is required if a patient experiences any of these signs.
Excessive Drowsiness
In some patients, long term use of Ambien can cause excessive drowsiness, states Drugs.com. This occurs because some of the chemicals in Ambien may remain in the system during the day, which can cause excessive daytime drowsiness. In other cases, the brain may be sensitive to the chemicals in Ambien, which may also make it difficult for the patient to regain energy during the day. Daytime drowsiness is a serious effect that a patient should be aware of, especially if he is driving a car or operating other heavy machinery during the day. If excessive drowsiness is noted, a patient should schedule an appointment with his doctor to adjust the dosage or change medications.
Dizziness
Drugs.com states that Ambien may cause dizziness with long-term use in some patients. This occurs because Ambien acts on the central nervous system, which may affect receptors in the brain that are related to dizziness. Dizziness may occur in the middle of the night, the next morning or during the next day, depending on the patient. In this case, a patient should schedule an appointment with his doctor so that the proper cause of dizziness can be identified. If Ambien is causing dizziness, the doctor may prescribe a smaller dosage of Ambien or prescribe a different medication to help treat insomnia.