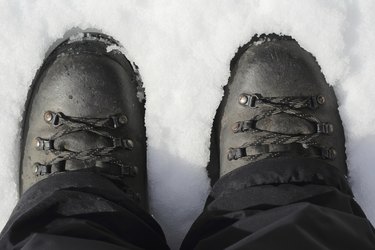 What to Look For
Boots for winter walking must have a good tread on the bottom to keep you from floundering in snow and slipping on icy patches. A waterproof lower section is also essential. A comfortable, flexible and preferably waterproof upper is also important, although a water-resistant upper will work. Consider your habits. If you'll be hiking snowy trails, you'll want a taller boot than if you intend to stick sidewalks and roads. Try and find a lightweight boot with ankle support. Some boots are very heavy and can making walking in the snow uncomfortable. If you intend to walk a lot in your boots, you won't need as much warmth as if you went ice fishing, for example.
Common Pitfalls
When you go shopping, remember to bring the socks you'll be wearing with the boots. Often, you will wear a thicker wool or polar fleece sock when out in the winter. A boot used for walking should fit snugly but not rub at the heel or toe. Too often, people buy boots that are too large, thinking they'll need to wear extra socks, when in fact, if you buy a boot that fits well with winter socks on, you will find your boot to be quite warm because the insulation is snugly around your foot. Check the warmth guidelines of the boot and make sure they are in sync with your expected winter weather.
Where to Buy
Winter boots for walking can be purchased at discount stores, shoe stores and adventure gear stores, both online and brick and mortar. It is best to try on a boot first before you purchase it, so that you can test out how it feels when walking around. If you choose to buy online, make sure your foot has been properly sized and ensure that the store accepts returns.
Cost
Boots can be purchased for as little as $30 at discount stores and are priced over $200 more fashion-inspired brands. The Columbia Sportswear Women's Sierra Groove Insulated Winter Boot is a lightweight, thick-soled well-tractioned winter boot available for $99.95. Sorel sells a similar mid-height boot with a leather upper and pull-on handles also for $99.95. Taller and warmer boots by Sorel go up to $175 in price. These are 2010 prices.