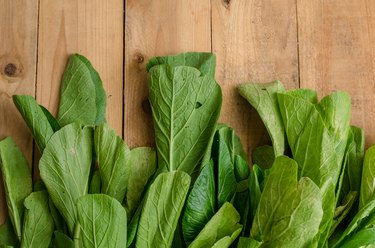 You feel the need to do something about your health, to cleanse your body of the accumulation of unhealthy foods, toxins from pollution, smoking, drinking too much coffee, too much sodas or wine or sweet tea, a vegetarian detox diet for a weekend or a whole week can not only cleanse your body but it will give you a jump start on a healthier diet and better habits.
Step 1
Dice all the fruit to make a fruit salad. Cook 1/2 cup oatmeal with a cup of water and a pinch of salt. Eat the oatmeal and half the fruit for breakfast with a 2 tsp. of seeds.
Step 2
Combine the yogurt, juice of half a lemon, crushed garlic, mint and cilantro leaves. Stir until well combined. Store in your refrigerator.
Step 3
Combine the brown rice, barley, wheat berries and millet. Store in a canister. Measure out 1 cup of the mixture and simmer with 2 cups of water for 30 to 45 minutes over low heat until tender. Add a pinch of salt and stir with a fork, fluffing the mixture. Eat half of the cooked grains for lunch and half for dinner.
Step 4
Prepare a salad with as much lettuce as you like, 1 1/2 cups of diced raw vegetables and 2 tsp. seeds. Dress the salad with olive oil and vinegar or lemon juice. Eat at lunch with half the mixed grains. Pour 1/4 cup of the yogurt sauce over the grains.
Step 5
Eat the remaining 1 cup fruit as a snack with 2 tsp. seeds.
Step 6
Heat the remaining mixed grains. Steam 1 1/2 cups mixed vegetables. Serve them together with 1/3 cup of the yogurt sauce.
Step 7
Drink eight, 8-oz. glasses of water during the day. Drink a cup or two of green tea during the day in addition to the water. Repeat this menu every day over the weekend, or for a whole week.
Things You'll Need
2 cups of raw fruit, in a variety of colors

1/2 cup oatmeal

3 cups of raw vegetables, in a variety of colors

1 head of dark green lettuce

1 tbsp. olive oil

1 tbsp. balsamic vinegar or lemon juice

2 tbsp. seeds, such as sesame seeds or sunflower seeds

2 cups brown rice

1 cup barley

1/2 cup wheat berries

2 tbsp. millet

1 tsp. sea salt

1 tbsp. olive oil

1 cup non-fat Greek yogurt

Juice of half a lemon

1 clove garlic, crushed

1 bunch of mint, chopped

1 bunch of cilantro, chopped

Cooking utensils

Water

Green tea bags
Tip
If you are working hard physically or exercising regularly, add a serving of tofu or tempeh to your lunch and dinner. If you crave something sweet, eat one or two prunes or dried apricots during the day or 1 oz. of dark chocolate. Lie down once during the day, elevating your feet for 15 minutes. Go for a walk during the day, at least 10 minutes.
Warning
This is a high fiber, low-fat diet. If you aren't used to eating this much fiber, take digestive enzymes and probiotics to help prevent bloating and gas.