Valium is a sedative drug that is commonly prescribed to treat anxiety disorders, symptoms of drug and alcohol withdrawal, as well as muscle pain. While effective, it can also cause unwanted side effects, such as confusion, depression or sleep problems. Many people want the effects of Valium without the harsh chemicals of the medication, and opt for herbal alternatives that are readily available. Note that use of any herbs must be cleared through your physician.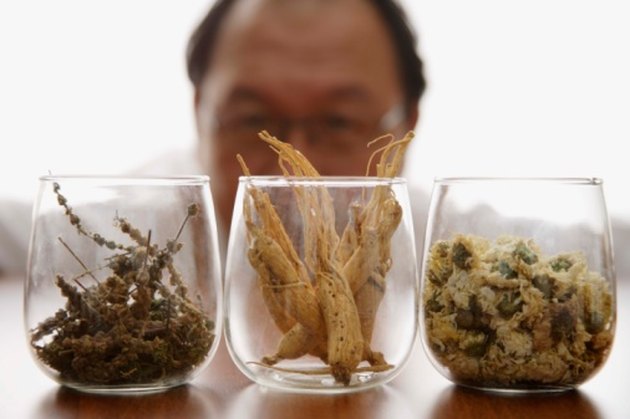 Kava Kava
Kava kava, also known as Piper methysticum, is an herb that has been used for centuries in the Pacific Islands as part of a ceremonial drink. Now it is used by many as a substitute for Valium, as it mimics Valium's effects. According to the Consumer Health Organization of Canada, kava kava brings on a sense of tranquility, sociability without stress and deep sleep. Unlike some herbs that have little evidence to back up their reported uses, kava kava has numerous studies behind it that support its claim of anxiety relief. One such study, published in the February 2006 issue of "Phytomedicine," concludes that kava kava is the only herb that has been proven "beyond reasonable doubt" to treat anxiety in humans. Possible side effects, as listed by the National Institutes of Health, are liver and kidney damage, skin disorders and high blood pressure. Kava kava is available as a dietary supplement from health food stores and some pharmacies. Be sure to ask your pharmacist or herbologist which brand is standardized and of high quality, and do not take more than the recommended dosage on the label.
St. John's Wort
St. John's Wort, known scientifically as Hypericum perforatum, is another herb whose anti-anxiety effects have been well documented. The University of Maryland Medical Center reports that St. John's Wort has been the subject of numerous studies that have found it to be effective in treating depression and anxiety disorders, and that compared to prescriptions to treat those disorders, it has fewer side effects. It is also known to be anti-viral, anti-bacterial and anti-inflammatory. St. John's Wort is widely available as a dietary supplement from health food stores and pharmacies. Again, ask the pharmacist or clerk about which brand is recommended for its purity.
Valerian and Lemon Balm
These two herbs are listed together because they are often joined together in herbal preparations. The February 2006 issue of "Phytotherapy Research" reports on a study that shows that valerian and lemon balm have anti-anxiety and mild sedative effects. The most effective dose of the combined herbs used in the study was 600 mg. Higher doses (1,800 mg) were actually shown to have the opposite effect, and increased anxiety levels. Valerian and lemon balm are available as dietary supplements from your health food store or local pharmacy. They may be taken separately, but if you find a supplement that has them combined, it will be much more convenient.