A number of parasites can infect the human intestinal tract, the most common of which include tapeworms, hookworms, giardia, roundworms, flukes and trichinella. These parasites cause disorders such as vomiting, diarrhea, intestinal cramping, dizziness, weight loss and dehydration. Intestinal parasites may be eliminated using colon cleansers. According to Dr. Richard Schulze, a advocate for using natural health products, the best types of colon cleansers are herbal and nutritional cleansers. The use of colon cleansers remains controversial. Some doctors believe that the colon is quite capable of cleaning itself and colonic cleansing or irrigation is unnecessary. However, if you have intestinal parasites a colon clenaser may help. You should talk to your doctor if you are considering using a colon cleanser.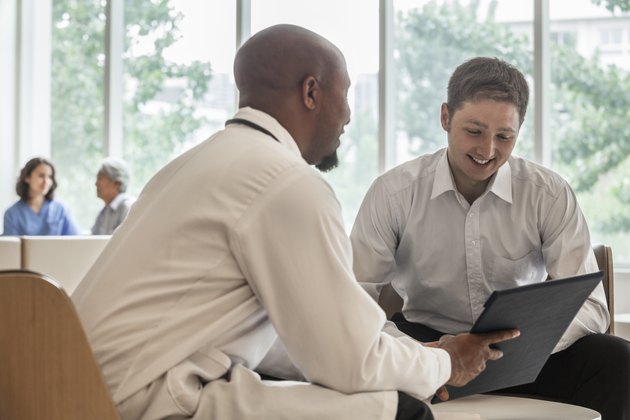 Which Type of Colon Cleansers are the Best
The best type of colon cleansers to kill parasites are ones that first remove any blockages from the colon. Blockages arise from compacted fecal matter which builds up when you do not have bowel movements on a regular basis. This leads to constipation and bloating. Once any blockages are removed from the colon, the cleanser can then easily eliminate the parasites.
Colonix
The colonix program is used for eliminating parasites from the intestinal tract and detoxing the colon. It alleviates constipation and improves bowel function. The program has three stages. The first cleanses the intestine to remove toxins, the second eliminates parasites and the third is a mild laxative to remove build-up fecal matter. According to naturopathist Angela Chang, the three stage program is beneficial because parasites can't be eliminated until colon blockages are cleared.
Ozonated Water
According to health experts at the Dreddy Aryuvedic Clinic, one of the best ways to eliminate intestinal parasites is to clean the colon with ozonated water and hydrogen peroxide. The simplest way to use this method is with a treatment such as Oxy-Mega. Oxy-Mega is an oral supplement that is taken with water. The recommended dose is six to eight drops each day mixed with water. This is generally taken over a three week period. This product is highly concentrated and should not be used undiluted or be allowed to come into contact with the skin or eyes.
Digestit
Digestit is a colon cleansing product for intestinal detox and the elimination of parasites. It is an herbal colon cleanser that helps with constipation and bloating by bulking up the stools for easy passage and eliminating parasites. It also contains probiotics; live beneficial bacteria that prevent build-up of pathogens and boost the immune system.