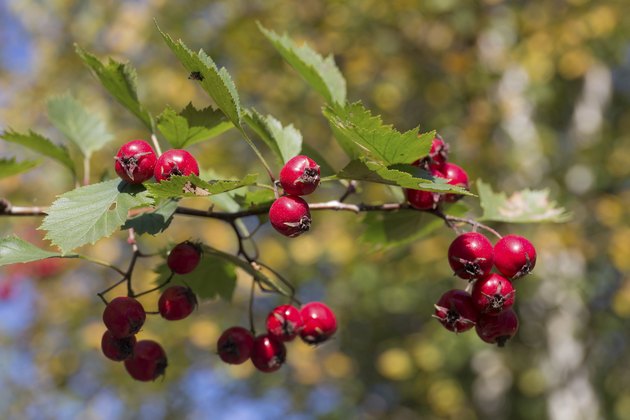 Dilation
One of the ways in which the berries of the hawthorn tree may help to lower your blood pressure, according to the University of Maryland Medical Center, is through dilation. It appears that flavonoids and oligomeric procyanidins, nutrients in the flavonoid family, help dilate the blood vessels. When your arteries dilate, or widen, that can decrease the amount of resistance your blood is met with while flowing through these vessels. This should improve your circulation and lessen the amount of pressure on your arteries from your blood, decreasing the stress placed on your heart and reducing your risk of heart failure, heart attack and stroke.
Plaque Development
The hawthorn berry appears to eliminate plaque. As plaque begins to form along the arterial walls, the blood vessels narrow. But the flavonoids found in the berries of the hawthorn tree seem to prevent the plaque from forming along the walls and reduce the amount of low-density lipoprotein--the bad cholesterol--in your bloodstream. With less plaque, your blood pressure falls.
Considerations
While there's some indication that the hawthorn berry can naturally help to lower blood pressure, studies are still limited on the long-term efficacy of this herbal supplement. Vitamins and supplements are not held to the same regulations as prescription medications and over-the-counter drugs, so we may never fully understand the benefits and potential side effects of the hawthorn berry. If you're considering using this herbal supplement in the treatment of high blood pressure, talk to your doctor. There could be an adverse interaction with a prescription medication you're using. The interaction may cause the drug to be less effective, increase the risk of bleeding or an abnormally low blood pressure.