D-mannose, a type of sugar, has become a popular alternative treatment for preventing and treating urinary tract infections. Unfortunately, nearly all the evidence on the effectiveness of D-mannose is anecdotal, without clinical studies to back it up. Cranberry, on the other hand, has shown some benefit in preventing but not treating urinary tract infections in clinical studies. If you think you have a urinary tract infection, talk with your doctor; you will most likely need antibiotics. Don't take D-mannose or cranberry to treat a UTI without medical approval.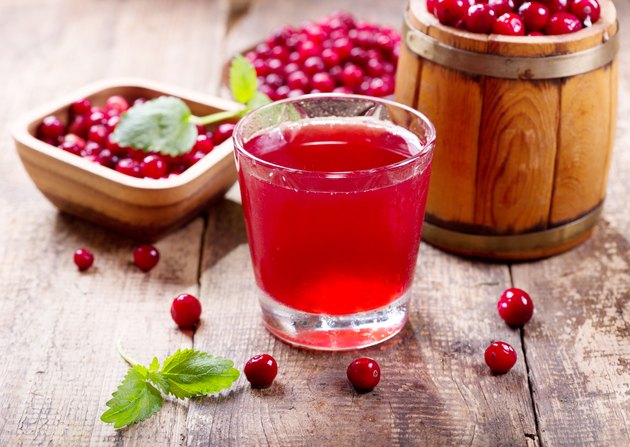 Actions
Proponents of D-mannose claim that taking supplements can block certain types of Escherichia coli bacteria from clinging to the bladder walls and allowing an infection to settle there. D-mannose only affects E. coli bacterial growth in the bladder; while other bacteria can also cause urinary tract infections, E. coli causes between 80 and 85 percent of all urinary tract infections, according to pharmacist Cate Sibley. Cranberry, once thought to prevent UTIs by making the urine acidic, is now known to prevent E. coli and other gram-negative bacteria from sticking to the bladder walls.
Studies
Clinical studies on the effects of D-mannose in people have not been conducted. An animal study conducted by researchers from Northwestern University and reported in the 1983 "Urological Research" found that D-mannose decreased bacteria concentration in rats inoculated with E. coli bacteria. Urologist Michael Blue, M.D., conducted a study of 60 of his own patients who reported symptoms of UTI. Of those diagnosed with UTI, 71 percent of the women reported improvement. Of those who did not have a positive culture of bacteria in the urine but who had symptoms, 94 percent of the women reported improvement. Men with diagnosed E. coli infection had significant improvement taking D-mannose.
Cranberry Studies
Study results on the benefits of cranberry for UTI prophylaxis have been mixed. A British January 2008 Cochrane Database Systematic Review of 10 studies reported that cranberry had value in preventing UTIs in women with a history of recurrent UTI. Evidence was not conclusive in other groups. More research is needed before cranberry is recommended for this use.
Concerns
Not all E. coli bacterial infections respond to D-mannose, including some of the most dangerous types, NYU Langone Medical Center warns. Other types of bacteria also do not respond to this treatment, because they lack mannose-sensitive pilli, threadlike structures that allow E. coli bacteria to attach to D-mannose. Cranberry has not proven effective in treating UTIs, but may help prevent them, according to Darren Lynch, M.D., of Beth Israel Medical Center, in the December 2004 issue of the "American Family Physician." Using either supplement to treat UTI could allow a simple UTI to ascend to the kidneys, causing serious infection. See your doctor if you think you have a UTI.
Is This an Emergency?
If you are experiencing serious medical symptoms, seek emergency treatment immediately.