Excessive sweating, also known as hyperhidrosis, affects 2 to 3 percent of the population; however, less than 40 percent seek medical help, according to Medline Plus. Excessive sweating affects the armpits, feet, hands, groin region and head. Although excessive sweating is a harmless condition, it may cause emotional distress due to embarrassment, discomfort and ridicule. Sweating is normal and necessary for helping the body cool and regulate heat. However, if your sweating is excessive, effective options, including some vitamins, are available to treat symptoms.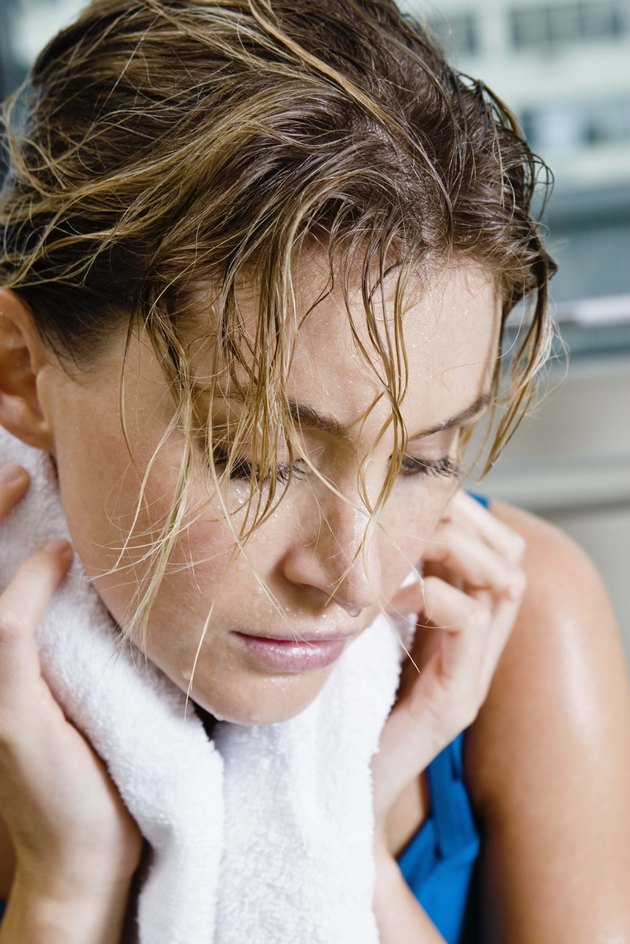 Causes
There is no singular cause for excessive sweating according to Medline Plus, and it tends to run in families. Excessive sweating may be a result of another condition; this is known as secondary hyperhidrosis. Conditions that cause hyperhidrosis include cancer, anxiety disorders, heart disease, lung disease, substance abuse and certain medications. Caffeine, alcohol and spicy food may temporary cause excessive sweating due to an increased body temperature. Exercise, hot weather and nervousness are normal causes of excessive sweating. Keep hydrated to avoid dehydration due to the loss of water through sweating.
Vitamins That Help
Vitamins, which improve and regulate your nervous system, may help reduce excessive sweating. B-complex vitamins regulate hormones, and excessive sweating may be a sign of a hormone imbalance such as menopause that occurs in middle-aged women. Vitamin C is essential to the body, and conditions related to vitamin C deficiency causes excessive sweating, such as heart disease and cancer. Oranges, green vegetables such as green peppers, tomatoes and Brussels sprouts are rich in vitamin C.
Standard Treatments
Antiperspirant with 10 to 15 percent aluminum chloride is highly effective in treating excessive underarm sweating due to its ability to block sweat glands. Stronger antiperspirants with more aluminum chloride are available under prescription; however, side effects such as skin itchiness are common. These antiperspirants may also damage clothing. Iontophoresis is an FDA-approved method of treating excessive sweating for hands and feet by temporarily stopping active sweat glands using electricity.
Considerations
Wear air-permeable clothing and natural fabrics such as wool, cotton and silk; this allows your skin to breathe. Wear black clothing to conceal sweat patches, or wear underarm liners to absorb underarm sweat. Carry a change of clothes to your place of work in case sweating becomes excessive. Body odor may occur due to frequent sweating; apply deodorant after a shower in the morning or night. If excessive sweating is significantly profound, vitamin treatments may not suffice; standard treatment or FDA-approved Botox injections may be necessary to treat symptoms.