Apple cider vinegar is a type of vinegar commonly referenced in home remedies. While most of the benefits associated with apple cider vinegar are anecdotal and untested, some studies have linked its consumption to improved blood sugar regularity in animal studies. Since the adrenal glands function best when your blood sugar levels are steady, it is possible that apple cider vinegar may have a small benefit for your adrenal fatigue. Talk to your doctor before taking apple cider vinegar, or any other alternative medical treatment.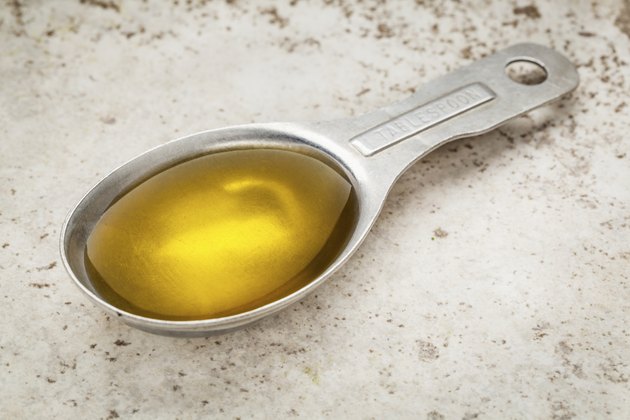 Definition
Adrenal fatigue as a term used to describe a collection of symptoms, such as fatigue, nervousness, body aches, digestive problems and sleep disturbances. Despite its common usage in the alternative health community, adrenal fatigue is not an accepted medical diagnoses, according to the Hormone Health Network. Proponents of the adrenal fatigue diagnoses claim that lifestyle factors such as poor diet, stress and substance abuse can have a damaging effect on your adrenal glands, resulting in imbalance or depletion of its three primary hormones: cortisol, adrenaline and norepinephrine.
The Connection
Like the thyroid and genitalia, adrenal glands play a vital role in releasing hormones that help regulate your body's response to different situations. The Women to Women website lists blood sugar regulation as one of the primary lifestyle corrections recommended to patients with adrenal fatigue. Since your glands and endocrine centers rely on glucose, spikes and lulls in blood sugar can result in unpredictable performance in these areas, including the adrenal glands. According to an animal study published in a 2008 issue of "Pakistan Journal of Biological Sciences", diabetic rats fed apple cider vinegar were found to have improved glycated gaemoglobin and lipid profiles. In other words, it is possible that apple cider vinegar may have some benefit on your blood sugar levels that can potentially improve your adrenal hormone balance. However, this benefit is likely much smaller than that of eating regular, balanced meals.
What to Do
If you intend to take apple cider vinegar for your adrenal health, start by sprinkling small amounts to dishes such as salads, pastas and whole grains. This prevents your esophagus from becoming irritated by the vinegar's acidity. Since the number of human studies involving apple cider vinegar remain few, there is no safe of effective dosage currently established. For best results, try to keep your intake limited to three teaspoons or less at any given time.
Safety Concerns
According to The Urban Clinic, apple cider vinegar may interact with supplements and drugs such as diuretics and insulin, potentially contributing to low potassium levels in some patients. While adrenal fatigue may not be considered an official medical diagnoses, similar conditions -- such as Addison's disease or adrenal insufficiency -- can involve inadequate production of adrenal hormones, and can be diagnosed by blood tests and other methods. Talk to a health care provider to find out if testing is appropriate for your symptoms.