A woman's hormone levels rise and fall during the menstrual cycle. These changes are needed to prompt the lining of the womb to thicken, for ovulation and for shedding of the uterine lining when pregnancy does not occur. Sometimes, however, these fluctuations can throw things out of whack in the body or exacerbate other conditions. Some women have migraines related to their cycles, premenstrual syndrome or other conditions that can cause heavy bleeding, tiredness and even dizziness to come along with a period. There are many reasons a woman might experience dizziness during her menstrual cycle.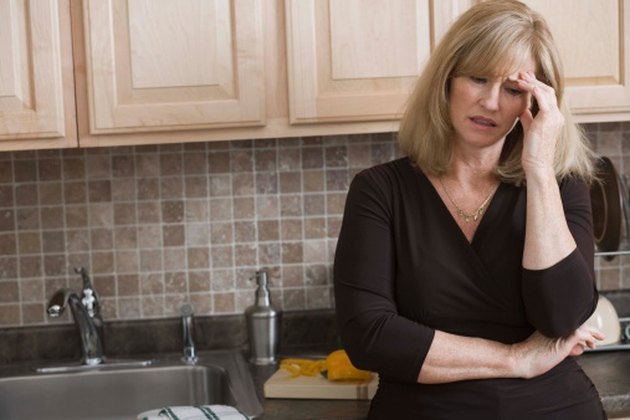 Migraine
Many women experience migraine attacks during their menstrual cycles. With this episodic neurological disorder, sufferers can experience dizziness, an intense headache, nausea, difficulty thinking, sensitivity to light or sound, numbness or a tingling sensation, according to the National Pain Foundation. The peak age for girls to have a first migraine is about 14 years old, often with the onset of the first menstrual period. The hormone estrogen appears to have an effect on migraine activity, according to the foundation.
Vertigo
Some women experience migraine-related dizziness and vertigo that is provoked by hormonal changes related to their menstrual cycles, according to the Mayo Clinic. Other triggers can be certain foods, stress and altered sleep. People who have migraine-related vertigo don't always experience the vertigo at the same time as the headache. The dizziness may last just a few minutes, but can go on for several days. People affected by migraine-related vertigo sometimes are also motion-sensitive and have a history of carsickness.
Fibroids
Fibroids can cause excessive menstrual bleeding in some women that leads to anemia and dizziness related to this condition, according to the National Anemia Action Council. Fibroids are non-cancerous growths that appear in the uterus, usually during childbearing years. Some 80 percent of women have fibroids by the time they are 50 years old, according to the council. Fortunately, fibroids are not linked to an increased risk of cancer.
Menorrhagia
Menorrhagia, or heavy menstrual bleeding, is a common cause of dizziness due to iron deficiency anemia. About 10 to 15 percent of all women will have heavy menstrual bleeding at some time in their lives, with 20 percent of them developing anemia. Anemia is a common blood disorders. It happens when healthy red blood cell levels get too low. This causes problems because red blood cells' hemoglobin brings oxygen to body tissues. Anemia can cause fatigue and stress on bodily organs. Aside from dizziness, other symptoms of anemia are irritability, fatigue, lightheadedness and a rapid heartbeat.
Hypoglycemia
Hypoglycemia during the premenstrual phase of a woman's menstrual cycle may cause dizziness. When a woman has hypoglycemia it means she has low blood sugar levels. Along with dizziness, this can cause fatigue, shaking, intense sugar cravings and perspiration. Controversy about the relationship between a woman's menstrual cycle and hypoglycemia exists, however. For example, a clinical study by Robert Reid, Alison Greenaway-Coates and Philip Hahn of the Kingston General Hospital's Clinical Investigation Unit in Ontario, Canada, debunks the theory. Published in the 1986 Journal of Clinical Endocrinology and Metabolism, the study concluded that women who suffered premenstrual syndrome and believed they had hypoglycemia related to their menstrual cycle actually did not.
Ménière's Disease
Ménière's disease may be aggravated by a woman's menstrual cycle, according to a 2001 study by the California State University Division of Nursing published in Nursing Research. The study by G.G. Morse and J.W. House concluded that, for some women, a relationship does exist between the menstrual cycle and Ménière's disease responses. Ménière's is a complex, progressive disorder of the inner ear. Symptoms include dizziness, vertigo, hearing loss and tinnitus.