Pescetarians consume seafood, as well as vegetables, fruits and grains. Many pescetarians also eat eggs and dairy products, but those who opt for this diet for health reasons may limit or avoid these foods. It's quite easy to create a healthy and delicious meal plan suitable for pescetarians. Many of these meals are also quite appropriate or easily modified for a vegetarian diet.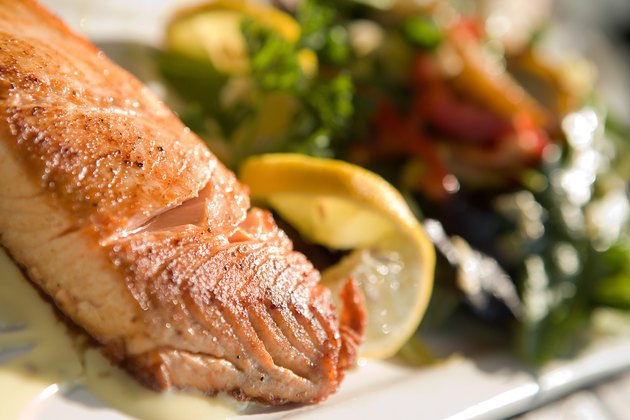 Types
Some pescetarians avoid red meat and poultry for health reasons, while others make this choice due to ethical concerns. Meal plans may vary depending upon the reasons for this diet choice. Many pescetarians eat a vegetarian diet much of the time, incorporating seafood only a few times a week, as suggested by the American Heart Association.
Considerations
Many common breakfast foods fit into a pescetarian diet without difficulty. Opt for eggs, omelets, cereal, breads, yogurt or a fruit smoothie for breakfast. Replace bacon or sausage with soy foods if desired. Lunch choices might include sushi, sandwiches, a salad with chickpeas and sunflower seeds, salmon or tuna. Make your dinner vegetarian with pastas, bean soups or other delicious dishes, or opt for a quick and easy broiled fish with fresh vegetables, recommends MealPlanSite.com.
Features
A pescetarian meal plan offers more options and variation than choosing a vegetarian diet. If you eat out, you'll usually find fish or shrimp on the menu. While shellfish has a reputation for being a high-cholesterol food, newer research suggests that it is less troubling than originally thought, according to the Swedish Medical Center. Opt for salmon, shrimp or crab to impress company. Limit fried fish or fish with buttery sauces to make the most of the health benefits of your diet.
Benefits
While you can eat an unhealthy diet as a pescetarian, most pescetarians and vegetarians consume less total fat, less cholesterol and less saturated fat than people who eat meat regularly. If you're transitioning to pescetarianism, a meal plan may help you figure out what to eat as you remove meat and poultry from your diet and make healthier food choices.
Warning
If you choose a well-balanced pescetarian diet including eggs and dairy products, you will consume adequate protein and an appropriate quantity of most vitamins. You may need to be conscientious about iron consumption, making an effort to include dark leafy greens, beans, soy products, and dried fruits in your diet. If you consume very minimal amounts of fish or animal products, be certain to choose B-12 fortified foods, like breakfast cereal or soy milk, to make up for a potential deficit, or ask your health care provider to recommend a supplement.