Taco Bell doesn't just head south of the border – it crosses all the way over into dangerous high-fat, high-sodium territory with some of the items on its current menu.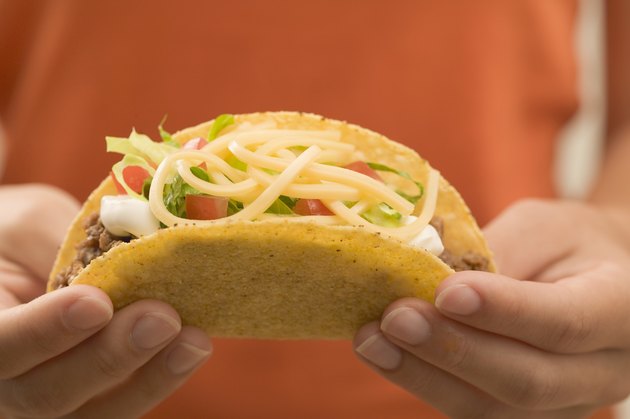 You would think that for a four-item meal, the ingredient list would be pretty simple, but that doesn't seem to be true for this crunchy beef taco.
Having one or two tacos a year will not kill you; however, we encourage knowing as much about what you put in your body as you know about the taxes you pay.
Let's investigate to find out more about what's going into those teeny tacos that are part of the 2 billion served each year.
THE SUSPECT: Taco Bell Crunchy Beef Taco
THE DETECTIVE: Gayl Canfield, Ph.D., RD, director of Nutrition at Pritikin Longevity Center + Spa in Miami.
NUTRITION LABEL: 170 calories, 9 grams of fat, 13 grams of carbs, 1 gram of sugar, 310 milligrams of sodium, 8 grams of protein.
CHEDDAR CHEESE: Cheddar cheese (cultured pasteurized milk, salt, enzymes, annatto (VC)), anti-caking agent. Contains: Milk [certified vegetarian],
ICEBERG LETTUCE: Fresh iceberg lettuce [certified vegan],
SEASONED BEEF: Beef, water, seasoning [cellulose, chili pepper, onion powder, salt, oats (contains wheat), maltodextrin, soy lecithin, tomato powder, sugar, soybean oil, spices, garlic powder, onion powder, citric acid, caramel color (C), disodium inosinate & guanylate, cocoa powder, natural and artificial flavors (contains gluten), trehalose, dextrose, modified corn starch, lactic acid, torula yeast], salt, phosphates. Contains: Soy, Wheat,
TACO SHELL: Ground corn, vegetable oil (soybean, corn and/or cottonseed oil), oat fiber.
The "real" in "real cheddar cheese" might as well stand for "really processed."
What's Inside the Taco Shell?
This taco shell may contain the least amount of chemicals after the lettuce, but one thing makes it stand out in an alarming way:
You'll strike it rich with oil. Yes, the crunchy goodness is likely achieved by deep-frying, which makes this shell high in fat.
Besides ground corn, this shell may also contain vegetable oil, soybean oil, corn oil and cottonseed oil, plus lime, water, citric acid, oats and fiber.
What Are All Those Ingredients in the Beef?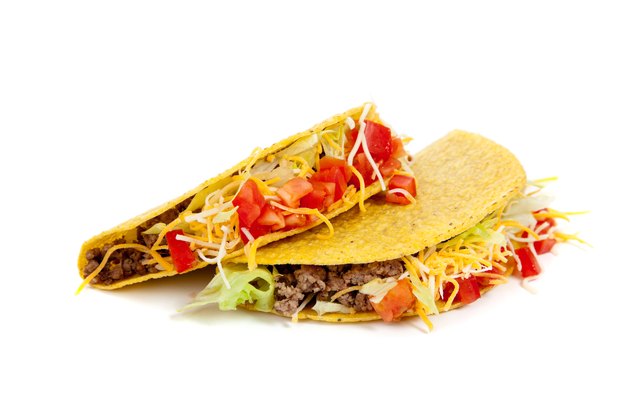 Ground beef should technically be just one ingredient, but this brown mixture is made up of more than 25 ingredients.
The seasoned beef contains beef, water, salt, sodium phosphate, beef broth, potassium phosphate and potassium lactate.
And then there's the actual seasoning which is made up of a laundry list of ingredients including: cellulose, chili pepper, onion powder, salt, oats, maltodextrin, soy lecithin, tomato powder, sugar, soybean oil, sea salt, yeast extract, spices, garlic powder, citric acid, caramel color, disodium inosinate, disodium guanylate, potassium chloride, cocoa powder processed with alkali, natural and artificial flavors, trehalose, modified corn starch, inactivated yeast, lactic acid, torula yeast and natural smoke flavor.
Among the most suspicious items in the group, Canfield notes, is the yeast extracts and natural smoke flavor. "The yeast may cause a similar reaction to MSG sensitivities," she explains. "There's also been some speculation that the natural smoke flavor made from beech wood may be toxic in humans, but much more research and evidence is needed before we can rule it a problem."
Why Does the Beef Need Caramel Color Added to It?
This questionable ingredient found in the beef mixture deserves its very own call-out. If beef is already naturally brown, why add brown caramel coloring to it?
"Beef isn't very attractive," Canfield explains, "and since visual appeal is very important to consumers, it's important to make it look nice."
Unfortunately, vanity comes at a price: "The caramel color may be contaminated with 4-methylimidazole, a possible carcinogen to humans," Canfield warns.
Is the Cheese Real Cheddar?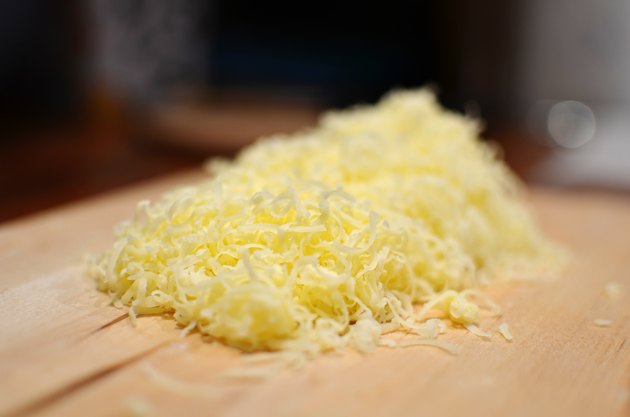 The "real" in "real cheddar cheese" might as well stand for "really processed."
According to FoodFacts.com, the cheese in Taco Bell's crunchy beef taco is made of milk pasteurized cultures, salt, enzymes, annatto color and anti-caking agents.
"Annatto color, which derives from a plant, may cause an allergic reaction, similar to pollen, in some people," Canfield warns. "Since it's not a listed ingredient for Taco Bell, people with this allergy can't avoid triggering a reaction, such as hives."
And What About the Sodium Content?
This taco contains something of a salt assault. Everything but the lettuce is loaded with salt.
While some sodium is essential for your body to function properly, two of these tacos make up more than 25 percent of your daily allowance.
Exceeding the limit of 2,300 mg of sodium per day may increase your risk of hypertension, cardiovascular disease, stroke, heart attack and other health issues.
What's the Verdict on Taco Bell's Crunchy Beef Taco?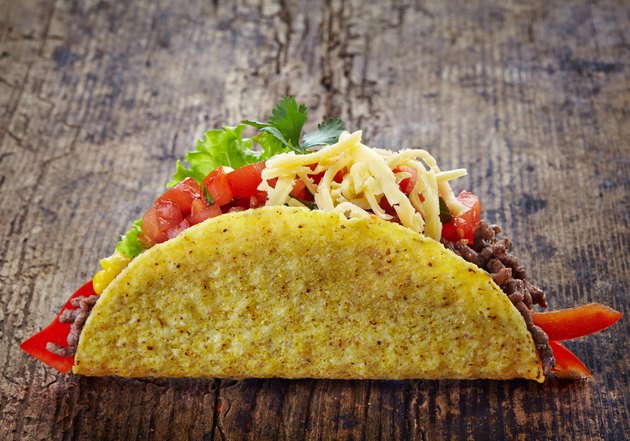 THE VERDICT: Not terrible, but troubling.
THE SENTENCE: What makes Taco Bell so special is its preformed shell, which was invented by the franchise founder, Glen Bell, in 1951. You can make your own healthy hard-shell tacos that you can fill with ground beef, chicken or turkey at home.
Preheat the oven to 375 degrees Fahrenheit. Steam fresh corn tortillas -- you can make your own for a healthful option or use store-bought -- by wrapping the tortillas in a slightly damp paper towel.
Microwave on "High" about 30 seconds. Place the tortillas on a large, flat platter and coat both sides with light cooking spray, or brush with melted butter or margarine.
Drape the tortillas over two bars of the oven rack and bake until crispy, about seven to 10 minutes. Remove from the oven and stuff with your favorite taco ingredients or get inspired by some of these delicious recipes: