It should come as no shock that Halloween is the No. 1 holiday for candy sales in the country, with Americans spending a whopping $2.7 billion on sugary treats.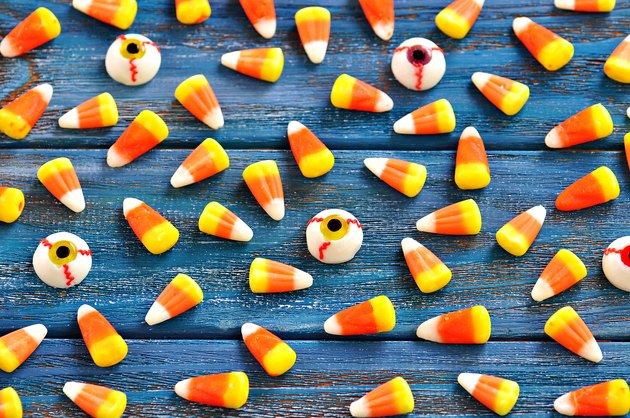 If you have any desire to be the most popular house on the block with trick-or-treaters this year, it may be helpful to know what type of candy is most popular in your part of the country. Luckily, online sweets vendor CandyStore.com has compiled 10 years' worth of Halloween sales data, pinpointing the top sellers in every state.
Candy corn is officially the most popular Halloween candy, according to the survey. Despite containing several artificial colors and a huge amount of sugar (28 grams for just one serving of 19 pieces), people in Alabama, Idaho, Michigan, New Mexico, Rhode Island and South Carolina stock up on the tricolor treat during the month of October.
Here's a fun fact: 90 million pounds of chocolate are purchased the week of Halloween, accounting for more than half of all Halloween candy sold in the country. Six candies tied for second place in this Halloween-candy popularity contest, and, unsurprisingly, four of them are chocolate. (Not-so-fun fact: Most of the popular chocolate treats are full of sugar.)
People in Arizona, New Hampshire, Oklahoma and Virginia spent the most on Snickers, while those in California, North Carolina, District of Columbia and Pennsylvania preferred M&Ms. Colorado, Maryland, Missouri and Vermont have a hankering for a Milky Way, while Reese's Peanut Butter Cups are the candy of choice in Iowa, Kansas, Oregon and Wyoming.
Sour Patch Kids — considered one of the most unhealthy candies on the market because they consist mostly of sugar, corn syrup and artificial colors and flavors — are the most popular candies in Illinois, Maine, Massachusetts and Nebraska, while Tootsie Pops nabbed top spots in Kentucky, Minnesota, Tennessee and Washington.
Three states — Florida, Hawaii and New Jersey — prefer the fruity taste of Skittles (230 calories, 42 grams of sugar and 2.5 grams of saturated fat per serving), while South Dakotans, Texans and Wisconsinites veer toward Starburst candy, which contains 23 grams of sugar, 160 calories and three grams of saturated fat per eight chews.
Jolly Ranchers are the favorite in Arkansas and Utah, Hot Tamales in Indiana and North Dakota and Blow Pops in Ohio and West Virginia.
The other popular candies are as follows: Twix (Alaska), Almond Joy (Connecticut), Life Savers (Delaware), Swedish Fish (Georgia), Lemonheads (Louisiana), 3 Musketeers (Mississippi), Double Bubble Gum (Montana) and Hershey Kisses (Nevada).
While most Halloween candy isn't exactly healthy, there are some benefits to be reaped from the spooky holiday: The average 14-year-old boy walks approximately five miles during two hours of trick-or-treating, which means he could burn up to 446 calories. But keep in mind: That only equates to just five to six "fun size" candy bars. So even during this most spooky-and-sweet holiday, practice moderation. Your teeth will thank you!
<p class="article-related-links">Want more healthy living info? Check out these LIVESTRONG articles: <br>
<a href="https://www.livestrong.com/slideshow/13711070-jennifer-aniston-justin-theroux-and-9-other-celebrity-exes-who-stayed-friends/">Jennifer Aniston, Justin Theroux and Other Celebrity Exes Who Stayed Friends</a>
</p>
<p class="article-related-links"> 
<a href="https://www.livestrong.com/slideshow/13710077-spanking-and-dry-spells-10-celebrities-incredibly-honest-sex-confessions/">Spanking and Dry Spells? 10 Celebrities' Incredibly Honest Sex Confessions</a>
</p>
<p class="article-related-links">
<a href="https://www.livestrong.com/slideshow/13709738-how-to-convince-your-body-that-it-needs-less-food">How to Convince Your Body That It Needs Less Food</a>
</p>
What Do YOU Think?
What is your favorite Halloween candy? Are you surprised that candy corn is the most popular Halloween candy in the country? Do you think Halloween is an unhealthy holiday for kids?